Aesthetically, the way a roof is designed can have a major impact, on not only the architectural design, but also affect its functionality. Choosing the right roof is an important decision for any homeowner when building a new house or retrofitting an existing one, as the roof not only protects a house and its occupants, but it also plays a defining role in the overall look and style of a house, as well as can provide such benefits as energy efficiency and long-term durability. Let's take a look at four popular roof styles and the characteristics of each.
Below is an illustration of the four popular rooflines: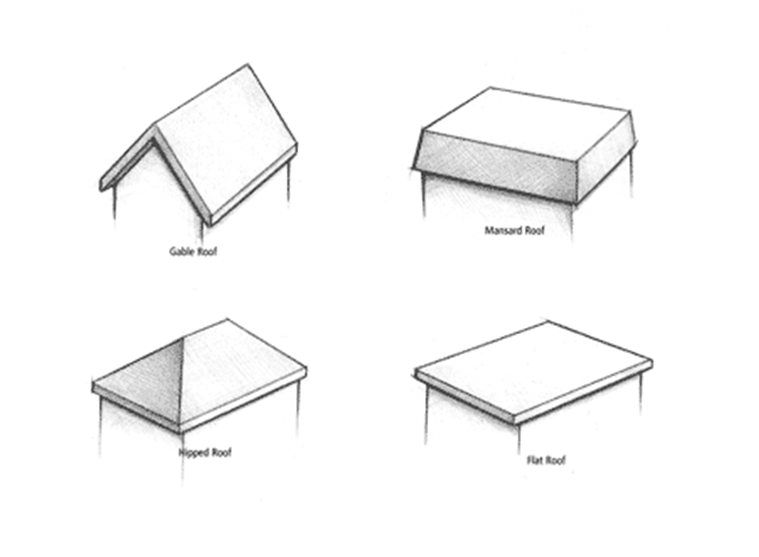 Gable Roof: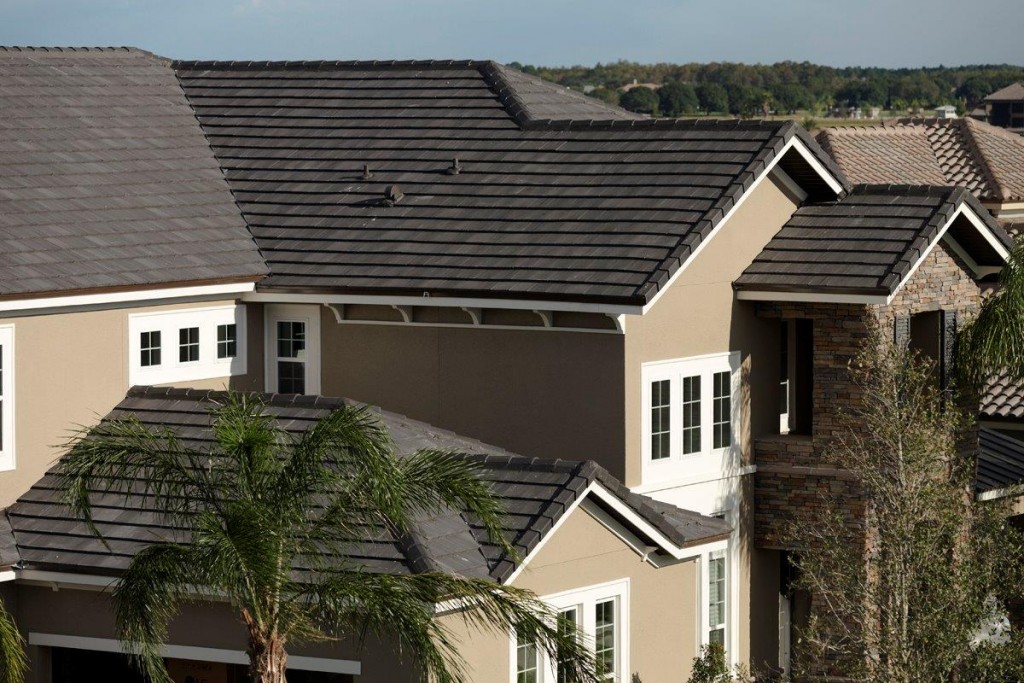 Gable roof designs are one of the most simplistic roof designs, making an inverted or upside down V shape. Remember in grade school when you learned how to draw a house? Who knew back then we were all drawing gable roof designs! What makes it so popular is that the slant, or pitch, of the gables varies, giving architects the flexibility to incorporate it in a variety of architectural styles from Craftsman to Contemporary, to Colonial, Rustic and Tudor homes. Gables can also be used as added embellishment for entry porches, dormers, and garages.
Pros: Gable roofs will easily shed water, snow and debris, while providing more ventilation in the attic space. Another great point is that they are simple to design and build, leading to cheaper labor costs. Gabled roofs can be covered with almost any type of roofing material including concrete roof tiles. Your roofing contractor can provide more details.
Cons: If you live in some areas of the Sunbelt, this roof style may not be for you. Gable roofs can become problematic when faced with high winds and severe weather, possibly making them ineligible for insurance discounts. If the frames don't provide adequate support, the roof can and will collapse.
Flat Roof: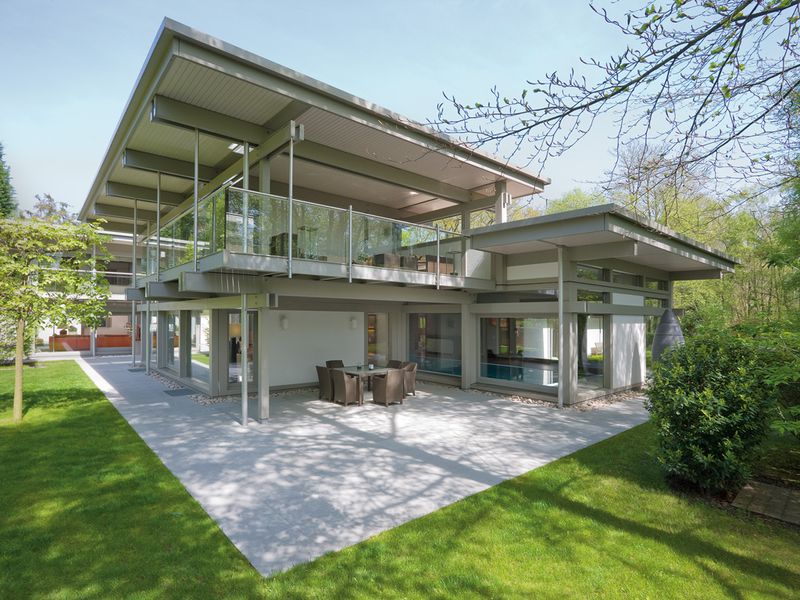 Flat roofs are commonly seen on commercial or industrial buildings. However, they can also be installed on residential houses. Flat roofs have little to no pitch; a shallow pitch would be around 1 or 2 degrees. Flat roofs are not ideal as they don't shed rain and snow as quickly as a sloped roof will. Typically, these roofs can be found on Modern-style buildings and homes. However, traditional homes also can feature flat roofs above porches & garages, as well as over shed dormers.
Pros: Simple! Flat roofs can be used as an accent on a residential home along with a nice hipped roof. Because this is a completely flat surface, objects like heating and cooling systems can be placed on the roof without an issue – a common practice in commercial roofing.
Cons: Water Damage. Flat roofs take a pounding from harsh weather, and with little to no pitch, water has no way of escaping leading to corrosion and expensive roof repairs.
Hip Roof: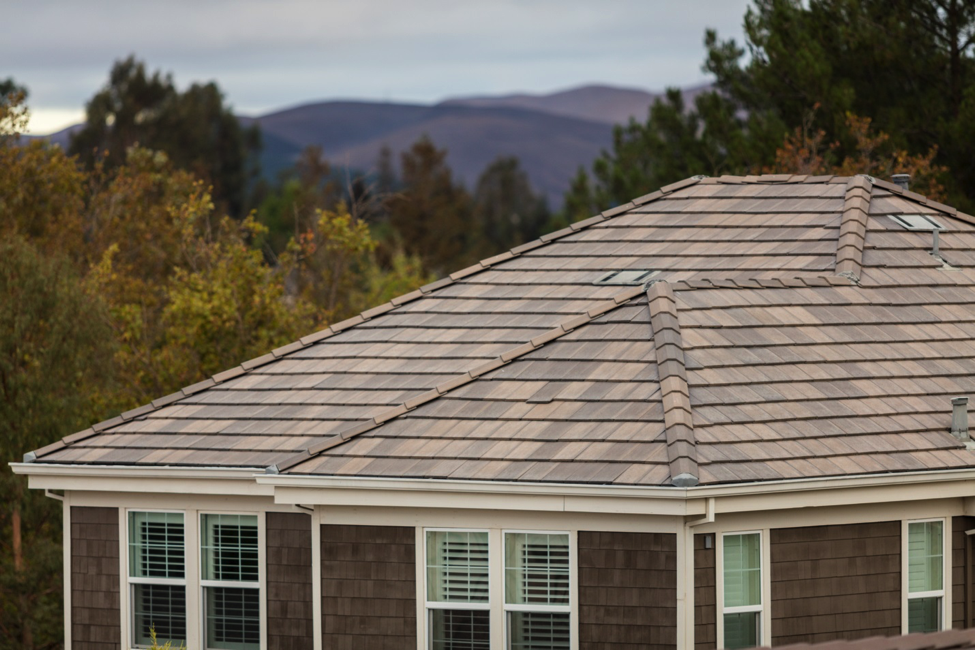 Hip roofs are by far the most common roof style seen in bungalows and cottages, and have been integral to styles such as the American Foursquare. However, the hip roof has been used in many different styles of architecture and in a wide array of structures. A hip roof style has four sloping sides. It's where the joint between two adjacent slopes on a roof meet. Some complex roofs have several hips. This roof style is also frequently combined with the gable style to give the roof more variety.
Pros: Hip roofs are one of the strongest designs for a roof. The inward slope on all four sides of a hip roof makes it an excellent design for both high wind and snowy areas. These designs also allow for more ventilation and grand vaulted ceilings or attics. Many roofing materials will work with a hip roof, but concrete roof tiles by far accentuate the beauty of this design and provide added protection for climates that experience severe weather.
Cons: Hip roofs are more expensive to build because of its complexity. Likewise, additional seams can make it easier for water to get in, creating leaks to form if a roofing system is not properly installed.
Mansard Roof: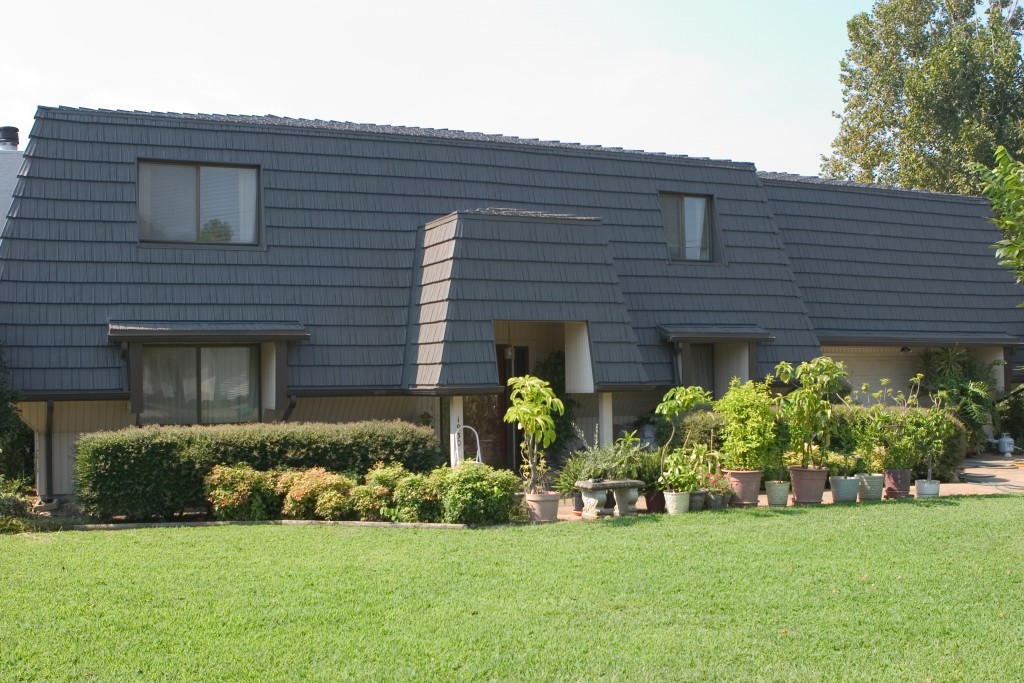 Mansard roofs are a characteristic of French Renaissance architecture and can be very difficult to construct. Today, these roofs are occasionally used on one- and two-story apartment buildings, restaurants, Second Empire–style houses, and French Manor or Country style, as well as Neo-eclectic houses. They have no gables and the roof itself is made up of four slopes, two on each side of a home.
Pro: This French-style roof allows for additional living or storage space at the top portion of the home. This is ideal for those with a small lot size looking to create a full attic or garret area. It also gives homeowners the flexibility to make additions later to their home as their needs change, while adding style and character.
Cons: The low pitched portion of a mansard roof isn't usually ideal for areas receiving snowfall. Mansard roofs also typically cost more because of the embellishments and details that go into the construction.
No matter what roof style you choose, Eagle Roofing Products is always here to help. We have over 10 different profiles to choose from in an extensive array of colors and blends that work well with almost any type of architectural style. Plus, our Eagle Account Representatives are always available to answer questions on how a concrete tile roof can be a viable option for your next residential or commercial project. Contact us today! Visit: https://eagleroofing.com/about-us/team-eagle/sales-teams/