This week's blog post comes from a guest author, the production manager for a roofing company in Colorado. Since most of the country is experiencing snowfall and freezing temperatures, it is crucial to know about the many reasons a tile roof can experience leaks during the winter.
In March 23rd, 2016 the Denver metro area experienced a blizzard that dropped up to 27 inches of snow in some areas and shut down the city for two days. This storm produced sustained wind speeds of 30-45MPH and two inches of water for every six inches of snow. It was wet and heavy and most Coloradan's stayed safely tucked in their homes. Those who didn't found themselves stuck in traffic for 4-6 hours.
Upon returning to work the calls began flooding in with reports of roof leaks. We scheduled our top repair technician to the issues and discovered the roofing systems were not failing at all. There were no leaks from ice-dammed valleys or water flooded penetrations as we would have expected with this heavy snow. Instead, we were just seeing piles of snow that had accumulated in the attics through the static vents (turtle and slantback).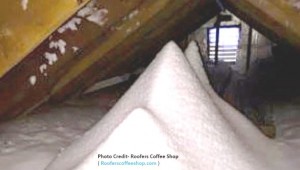 A few of the attics vents were installed improperly, causing some of the exhaust to act as intake, sucking in the snow. The snow then melted from the heat of the home, soaked through the insulation and then into the ceiling/drywall. Other homes had proper ventilation but, due to the severity of the blizzard, snow in large amounts was also being driven into the attics via the static vents.
In cases where the ventilation was improperly installed we recommended repairs to properly ventilate the attics, but in the other cases there was nothing we could do. Most home owners called their insurance companies to make a claim and mitigation companies to handle the water damage, which in some cases was significant.
The entire experience made for an interesting and stressful week but, more importantly, taught us so much about the importance of properly installing ventilation systems in a home.
For more information on tile and vent installation, visit www.tileroofingorg.com or contact your knowledgeable local Eagle Account Representative today.