Welcome to the Eagle Design Corner! Recently, Jamie Trotter from Jamie's Design Corner, began an exciting new phase of her career. In lieu of her departure, we will continue to build upon her blog, and share unique ideas and tips with you through what we will now call the Eagle Design Corner. Just as before, we will provide our customers with product and design advice each month on how you can transform your residential or commercial projects' exterior look. 
With the New Year spirit of fresh starts and self-improvement in full effect, now is the perfect time to give your home a fresh start of its own. The easiest and most cost-effective way? Enhance the look and feel of your home by simply adding a pop of color to your front door. Whether your exterior is Spanish style, Modern or French Country, there's a color out there that will provide that "wow" factor! Let's look at a few examples that you can try for your front door makeover.
Go bold.
Don't be afraid to try something different and outside of your exterior color scheme, or comfort zone! The bright blue on the front door of this ultra modern white home is just what it needed to emphasize the front entrance and brightness of the overall exterior.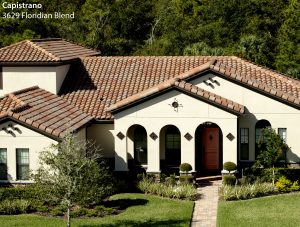 Work with the wheel.
If you're not ready to dive into too much color, revert back to the days of the color wheel and try a more monochromatic scheme.  From the concrete tile roof to the front door on this home, various hues of orange are used to accentuate its overall Spanish style, while providing just the right amount of color.
Subtlety can make all the difference.
Don't always associate adding color with the term "bright." Adding a subtle variance color can make just as big of an impact. The exterior of this French Country home is entirely gray; from the concrete tile roof to the trim. Adding a complimentary hue of maroon to the front door adds appeal and contrast between the entry way and exterior.
Adding a pop of color to the front door can give your exterior immediate character and curb appeal that you may have been yearning. So give your home the fresh start it deserves this year!
If you are reroofing an existing structure or building a new residential property, and feel that you need help incorporating some color into your exterior, don't hesitate to reach out to an Eagle Design Center Coordinator in your region. Our Design Professionals are here to assist you with all of the pieces, from choosing the right concrete roof tile color and profile for your project, to even the color for your front door.  Contact us today!