Think of your roof as a system; a system derived of different types of barriers that work together to protect you and your home from the outside elements. Because your roof plays such a key role, it's important to have it inspected from the inside out, at the very minimum once a year – especially as it ages or after a severe storm. Below are a few tips that will help you quickly identify the status of your roof and whether or not it might need to be repaired or replaced.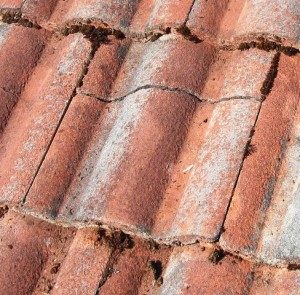 If you have a concrete tile roof, the first thing to note is if you have any broken roof tiles. Concrete roof tiles act as the shell, or the first line of defense, within the roofing system, protecting the underlayment and wood decking that lies beneath. If you notice broken tiles, contact an insured and bonded roofing contractor immediately to have the pieces replaced. Often times, it can be difficult to spot broken tiles from ground level and if they go unnoticed or unfixed, bigger issues within the roofing system may arise. These areas can act as potential points of entry for animals and allow for water to penetrate the underlying layers of the roof, creating water spots on the ceiling, fascia or soffit. If caught early with minimal damage, a simple underlayment or flashing repair in the faulty area will suffice. Other cases that warrant repair for any roof type would be: sagging gutters, pooling water on your roof, damaged soffits, cracked flashing or recent accumulation of rainwater in your attic.
As for roof replacements, this usually depends on the condition of your underlayment. Underlayment serves as a secondary level of protection from deterioration, moisture, and leaks that can directly affect your roof deck. This portion of the roof does have a lifespan, so if you experience problems with multiple or widespread leaks, your roofing contractor may recommend that you replace the entire roofing system. A roof replacement may also be necessary if it has sustained extensive damage from rainstorms, long winters, and heavy winds. Unfortunately, wear and tear is unavoidable. Last, if your roof needs replacing, consider exploring all of the different options of roofing materials available. A concrete tile roof, for instance, is known to significantly increase curb appeal and last the life of the structure compared to the 20 year lifespan of an asphalt shingle roof.
With each part of the roof playing such an important role, it is recommended that you have a licensed, insured and bonded roofing contractor inspect your roof once a year to conduct any necessary maintenance or assessments. Some roofing companies offer a free roof inspection which may reveal previous storm damage that could be covered by your homeowners insurance, while others may offer financing for repairs not covered by insurance. It is suggested that you get 2-3 estimates that include the scope of work, pictures of all areas and damage, as well as a full breakdown of charges.  Most importantly, do not try to fix it yourself. When it comes to maintaining your investment, the smartest money you spend could be on a roof repair or replacement.
For more information regarding roof repairs and replacements, contact your local Eagle Account Representative or visit our website at www.eagleroofing.com.