If you're in the market for a new roof and searching for an alternative to your current asphalt shingle or metal roof, tile may be the choice for you. Here are some signs that you might be ready to make the transition!
Your current roof didn't perform as expected.
Asphalt shingles is the most common roofing material out in the marketplace. Why? Because of its perceived affordability. However, did you know that asphalt shingles are made from either fiberglass or a paper fiber mat? What makes them immediately affordable will cause problems over time as this material will begin to dry out, lose granules, crack, and the adhesive tabs will begin to deteriorate. This can cause water to penetrate the underlying layers of the roof, resulting in water damage and roof leaks. If your home happens to be in a region that endures harsh weather conditions, it is likely that your asphalt shingle roof began experiencing these issues earlier than anticipated and did not make it to the expected 15 to 20-year lifespan mark.
Metal roofs are also heavily affected by environmental conditions. The surface of a metal roof can begin to deteriorate and rust with minimal exposure to moisture and salt, and can be easily dented or scratched during the event of a hail storm. In areas with high temperatures, the metal can expand and contract, which can lead to oil canning and leave the roof without an air-tight seal – allowing water to infiltrate the roofing system. Tile roofs on the other hand can withstand the harshest of elements when installed properly. Concrete roof tiles manufactured by Eagle Roofing Products are tested to the highest of standards and provide durability that will last a lifetime.
You want something affordable and worth your while.
A new roof is a significant investment and you should expect long-term value on your choice. When reroofing with tile, the initial costs may seem higher than asphalt shingles or metal initially; however, once you evaluate the lifespan of each roofing material and consider the multiple reroofs you will have to endure, having a tile roof becomes significantly cheaper.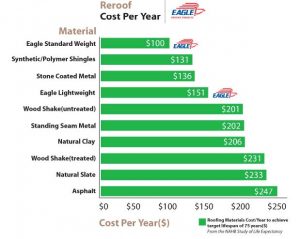 A study performed by the National Association of Home Builders shows that over a 75-year span, concrete tile roofs specifically, become significantly cheaper than any other roofing material. This is due to the material's incredible durability and sustainability. With proper installation and periodic roof maintenance, the tiles will last the life of the structure, with the slight possibility of one reroof needed over a 75-year period. Concrete tile roofs also have a Class A fire rating, can withstand the harshest of elements and continue to maintain their beauty and color throughout the years.
You're tired of dull roof colors and profiles.
Most asphalt shingles and metal roofs are dark, grey and flat with a one-dimensional look that adds no supplementary architectural depth. Choosing a concrete tile roof opens the door to endless roof possibilities. For example, Eagle Roofing Products has 10 different profiles available with over 150 colors to choose from. The wide range of colors available makes it easy to liven up your current monochromatic rooftop with a vibrant blend or a subtle range. With a tile roof, you will have the unique ability to create accents and complement your exterior.
So, if you're searching for a new roof that is affordable, durable or one that meets your design needs, a concrete tile roof may be the best option for you.
To learn more about tile roofs and their benefits, visit https://eagleroofing.com/why-tile.