It is well documented that a tile roof normally lasts the life of a structure with the possibility of one reroof needed over a 75-year period. If you have a clay or concrete tile roof or are considering one, it's important to note that throughout the life of this roof, minor repairs may need to be performed to ensure your home or commercial structure remains properly protected. Improper foot traffic and extremely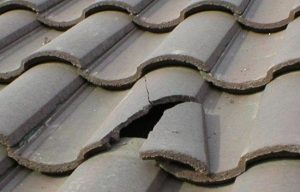 severe impact or force inflicted upon the tiles can lead to cracks and breakage, resulting in the need for a repair. There are several things to keep in mind when mending these problems.
Tile roofs are comprised of natural materials. This means color variations can occur depending on the manufacturing dates of the tile or the area where the raw materials were retrieved from. Factors such as the age of your roof, dirt buildup and weathering can also affect the matching of colors. Tile manufacturers, such as Eagle Roofing Products, produce over 150 colors of tile for you to choose from, making the tile matching process much easier.
Although color is a concern when repairing tiles on your roof, it's also important to make sure its integrity is not compromised. To avoid any issues with your repair, be sure to use replacement tiles that are the exact same size and profile shape as the existing clay or concrete roof tiles. Mixing tile sizes on a roofline may cause the tile to break or fail, leading to additional replacements and the potential for more issues. Concrete roof tile manufacturer Eagle Roofing Products has not changed their tile molds or the dimensions of their tile since the company began over 25 years ago. When selecting your next roof tile manufacturer, this is something to keep in mind to avoid issues with finding proper replacement tiles in the future.
Once you've received your replacement tiles and selected your certified and bonded roofing contractor, check the weather before scheduling your repair. Broken or cracked roof tiles should not be removed from the roof if it is raining or if it's forecasted to rain. Be sure to only remove the number of tiles that can be replaced or repaired in one day.
To ensure your roof remains in tiptop shape, it is recommended that you have a certified and bonded roofing contractor inspect your roof once a year to conduct any necessary maintenance or assessments.
If you are in need of replacement tiles for your concrete tile roof, contact one of our Eagle Roofing Products' Design Centers. Our Design Center Coordinators can provide recommendations for tile matches and assist you with the ordering process.