The extraordinary benefits of a concrete tile roof, including its proven durability, sustainability and beauty, do not have to be limited to residential structures. Commercial structures with roof pitches can reap these benefits, as well!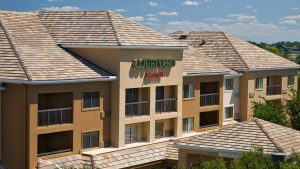 Just like the roof on a home, the roof on a department store, entertainment facility, or any other commercial structure is the first line of defense from the hazardous outside elements. When installed properly, concrete tile roofs, like those manufactured by Eagle Roofing Products, can withstand the harshest of these elements including wind gusts of up to 180mph, damage from hail stones up to 2", freeze/thaw climates and fires.
When using concrete roof tiles, there are also added advantages when it comes to energy savings. The inherent reflective properties of the tiles results in a 48 percent reduction in heat transfer by reflecting sunlight and, instead of absorbing that heat and transferring it down from the roof deck and into the structure, the tiles actually release that heat. Thus,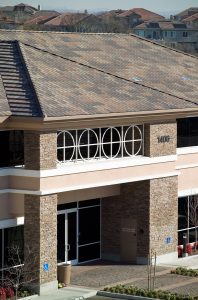 the inside of the building remains cool, keeping guests comfortable while reducing heating and cooling costs.
A concrete tile roof can also help enhance the appearance of the exterior and differentiate a development from the next. Available in a multitude of styles and colors emulating the look of clay, natural slate and wood shake, your commercial space will achieve curb appeal that is not available with other roofing options.
So, choose to invest in a roofing material that will provide the longest lasting protection for your commercial structure and bring a beautifully updated look to the outdoor space. Choose a concrete tile roof!
For more information on concrete roof tiles, visit www.eagleroofing.com.