For production and custom home builders, it is important to construct with high quality building products that will continue to give customers a place to call home for years to come. One such example is using concrete roof tiles, which offer superior longevity, durability and versatility.
Longevity. When homeowners build and purchase a new home, they do not want to worry about big-budget projects like reroofing within 10-15 years of moving in. With over a century of proper field performance in other parts of the world, tile roofs provide the longest track record of performance compared to other roofing materials, such as asphalt shingles, and can last up to 75 years when installed properly.
Durability. Concrete roof tiles, including those manufactured by Eagle Roofing Products, offer outstanding protection on a home. In fact, they can withstand the harshest of elements including wind gusts of up to 180mph, damage from hail stones up to 2", freeze/thaw climates and are Class A fire resistant. Their modern engineering design provides a natural water shedding and ventilation feature, making the tiles an ideal roof covering in warm and cold climates – even reducing ice damming in cold areas. A concrete tile roof's weight adds to its strength and is no match for the varying climates throughout North America.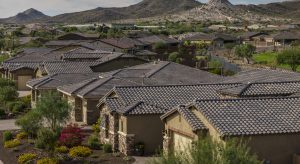 Versatility. Not only do concrete tile roofs offer longterm protection; they also bring beauty and design to any streetscape. With multiple profiles, textures and colors to choose from, the possibilities are truly endless! For instance, Eagle Roofing Products offers 10 different profiles and a vast color offering in standard integral, ranges and multi-color blends. Whether the homes are modern, traditional, country cottage, or even multi-family in a new development, there are options available that will deliver a cohesive and beautiful look to each structure.
Give homeowners the protection and quality they deserve with their new home. Give them the choice of selecting a concrete tile roof!
For additional information on the benefits of concrete roof tile, visit https://eagleroofing.com/why-tile/. To obtain an Eagle Roofing Products' product brochure or to receive assistance with your tile roofing decision, our Account Representatives are here for you. Contact us today!