Whether a structure has an asphalt shingle, metal, clay or concrete tile roof, walking on the roof for seasonal inspections and cleanings is inevitable. However, when it comes to tile roofs in particular, there is a proper way to walk on the tiles in order to avoid damage.
Often times, roof tile manufacturers do not specifically warrant breakage due to foot traffic, so it is important that caution be exercised when doing so. Not only do you not want to break your roof tiles, but you also do not want to put your safety at risk. It is suggested that you hire a licensed and bonded roofing contractor to do the job.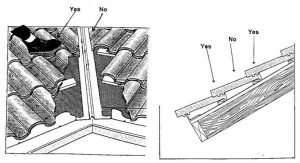 If you choose to perform the task yourself, it is recommended to step at the bottom three inches of the installed tile when walking along your roof. This section is supported by the lapped tile beneath it and the weight is then transferred to the deck below. Orient your feet in a direction parallel with the ridge and try to distribute your weight evenly, walking as softly as possible. On high barrel tiles, such as Eagle Roofing Products' Capistrano concrete roof tile profile, you should distribute your weight with the heel and toe on the high points of adjacent tiles. If tiles are broken, you'll want to have them replaced as soon as possible to avoid damage to the underlayment from water intrusion and exposure to the ultraviolet rays of the sun.
You will also want to stay away from hips or valleys to avoid breaking cut tiles that could be more difficult to replace. The exception to this would be in situations where the hips and ridges are bedded in mortar or foam, in which case they may be preferred walking paths. Valleys may also be access paths if the tiles are cut away from the center of the valley wide enough to allow foot traffic on the metal valley flashing.
If your roof is due for an inspection or cleaning and you would like to locate a certified tile roofing professional in your area to do the job, visit the Tile Roofing Industry Alliance.
For additional questions or concerns regarding your concrete tile roof, please contact your local Eagle Account Representative.