Concrete roof tiles are among the most durable, long-lasting roofing materials, often withstanding the worst conditions nature can offer without compromising the material's protective properties; however, the surface of any product left unattended will show signs of aging over time, and concrete roof tiles are no exception.
When selecting a concrete roof tile, you will be choosing from one of two color application options: slurry/color bonded or color-through. A slurry/color bonded tile is created by applying a concentrated slurry coat of cement-infused pigment to the top surface following extrusion. This type of product is usually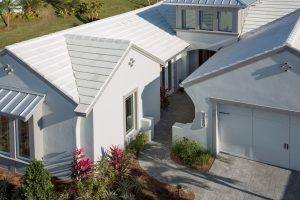 chosen when high contrast, bright colors are desired. Slurry coated tiles can oxidize and turn chalky before gradually wearing down to the gray or white concrete base. If this happens over time, you have the option of re-coating your roof with a 100% acrylic paint.
Color-through tiles are made by mixing the iron oxide coloring directly into the cement prior to being placed into the tile molds. This colored cement will be drawn to the surface of the tile, giving it the initial color shade. That layer is slightly softer than the body of the tile and will typically erode away within the first ten years, depending on the climate. This erosion will expose a larger percentage of the sand aggregate and result in an overall lightening of color. After this initial change, future erosion will occur at a dramatically slower pace and at no point in time will the integrity or durability of the tile be compromised.
As with any kind of roofing material installed on a residential or commercial building, weathering effects will happen and concrete roof tiles are no exception. However, periodic cleaning and/or resealing can rejuvenate and prolong the surface finish of either slurry or color-through concrete roof tile.
For additional questions or concerns regarding your concrete tile roof, please contact your local Eagle Account Representative.