In 2017, Eagle Roofing Products partnered with Ron Blank and Associates and the American Institute of Architects (AIA) to become a registered provider with AIA Continuing Education Systems (AIA/CES). This enabled us to expand our architectural specification resources with the creation of a course that would make learning about our products an effortless process for design professionals. Now, we have expanded our resource library even further with the addition of the one-hour long course, Concrete Tile Roofing: The World's Most Sustainable and Energy Efficient Roofing System.
Contrary to our other CE course offerings, Concrete Tile Roofing: The World's Most Sustainable and Energy Efficient Roofing System not only grants participants with the opportunity to earn 1 AIA LU/Health Safety & Welfare (HSW) CE Hour upon completion, but also 1 GBCI General Hour.
The course was created by our company's very own industry experts and takes an in-depth look at the sustainability and energy efficient attributes of concrete tile roofing. This includes its near zero-waste manufacturing process, life-cycle cost, and performance in comparison to temporary asphalt shingle roofing. It also covers the product's installation process and how it enhances the inherent thermal mass attributes of concrete roof tile.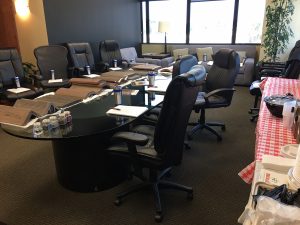 Offered in a Lunch 'n Learn classroom setting at a design firm or office, this instructor-led program is presented by an InfoSpec registered Subject Matter Expert. Throughout the program, participants will enjoy a complimentary catered lunch as they engage in the informative 50-minute PowerPoint presentation concluded by a 10-minute Q&A session period. In addition, tile samples and informational materials are provided to further aid in specifying concrete roof tile on future projects.
If you are interested in learning more about the CE course or would like to set up a future Lunch and Learn for your firm, simply contact your local Eagle Account Representative.