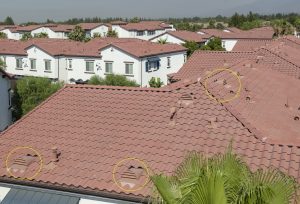 Choosing a concrete tile roof grants homeowners a long lasting and stunning centerpiece for any home. In addition to luxurious curb appeal, the product embodies inherent energy efficiency properties that reflects the sun's rays and emits heat at larger rates than other roofing materials.
However, what if you could further enhance your tile roof's energy efficiency? Eagle Roofing Products offers the Ventilated Roof System, a sustainable and energy saving solution that facilitates airflow under the tile for increased ventilation. This installation method reduces heat transfer into the structure, conserving energy and saving money on electricity bills. It also prolongs the lifespan of the underlayment, components and roof while mitigating urban heat island effects. The Ventilated Roof System is comprised of three main Eagle components: Ventilated Eave Closures, Arched Battens and O'Hagin Vents.
Ventilated Eave Closures serve two purposes; to prevent birds and small animals from entering under the roof and to enable a constant air intake at the eave. Eave Closures are offered in a variety of colors to best match your new Eagle concrete tile roof.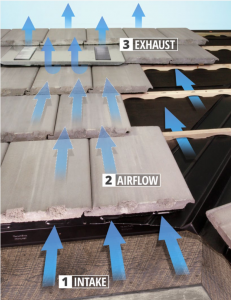 Arched Battens facilitates the air entering from the Ventilated Eave Closure to travel unabated beneath the tile and across the roof deck before reaching its final exit point.
O'Hagin Vents are the final component of the Ventilated Roof System. The main purpose of the O'Hagin Vent is to exhaust the air passing below the roofscape, thus removing any heat from entering into the dwelling's attic.
Since our founding, Eagle has strived to create roofing products that are beautiful, long-lasting and environmentally friendly. The Ventilated Roof System is our latest effort in helping create more sustainable communities. Visit eagleroofing.com or contact your Eagle Account Representative today to learn more about Eagle's energy saving products and components.