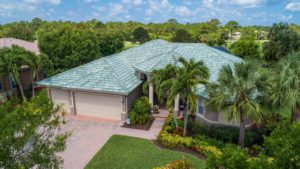 It's sweet, sweet summertime! And what better way to enjoy the longer days than outside with the sun shining? Since July coincides with the warmer seasonal change, you'll probably be outdoors more working on that tan, hosting backyard barbecues, or simply spending quality time with family. A popular and anticipated time for re-roofs, make the best of your summertime enjoyment by ensuring that your home is protected against inclement weather like summer rain storms and wind events. If you're in the market for a gorgeous, new Eagle concrete tile roof, perhaps you wish to reimagine the color scheme of your house as well? Channel your inner artist and check out these two bright exterior color palettes for your home that enhance curb appeal and exude that laid-back summer vibe all year-round.
49718 Catskill* in Tapered Slate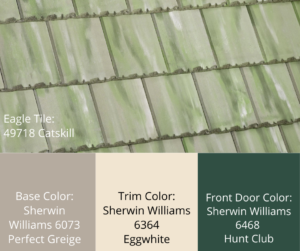 This unique and illuminating tile radiates hues of moss and dark green with white streaking. For the exterior, a base paint color such as Sherwin Williams 6073 Perfect Greige emulates that classic taupe shade while complementing the cool green tones in the tile. Try trimming the structure with Sherwin Williams 6364 Eggwhite. The warm tinge offsets the light jade tones and complements the pearly whites in the roofscape. For an accent pop of color, Sherwin Williams 6468 Hunt Club suits the shrubbery in your yard while balancing hints of emerald in Catskill. This nature-inspired palette highlights the beauty of surrounding greenery and pairs beautifully with the rugged edges of the roof tile, a design characteristic of traditional slate.
3723 Adobe Blend in Capistrano
This bright blend emits a combination of maroon, terracotta, gray and gold, so gloss your home with Sherwin Williams 6127 Ivoire for a subtle hint of additional color. The yellow undertones in this creamy pigment complement a neutral trim, such as Sherwin Williams 6126 Navajo White, and pair well with the various hues in the tile. Add a splash to the front door with Sherwin Williams 6299 Aged Wine. A mauve finish to the home ties in all the vibrant shades, resulting in a stunning summery color scheme to go with your new concrete tile roof.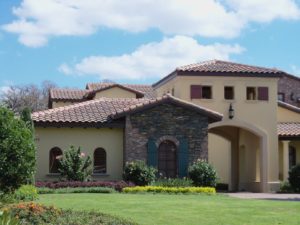 Need help in revamping your exterior to match your upcoming roofing project? Contact your local Eagle Design Center for style tips or browse our website for concrete roof tile color inspiration!
(*House photos and Tile photos may vary as concrete roof tile is made from natural, raw materials and color variations are expected. To ensure your satisfaction, Eagle Roofing Products always recommends that you obtain a free tile sample prior to placing your order.)