At Eagle Roofing Products, our inspirational color boards are meant to inspire homeowners and designers alike. To play around with colors, and explore what is possible, when selecting a new concrete tile roof to adorn your home.
Grab your favorite beverage and rethink your home's exterior with three Inspiration Boards featuring our beautiful gray roof tile, Sierra Madre. The options are endless with this versatile hue thanks to the product's gorgeous charcoal shades and black streaking.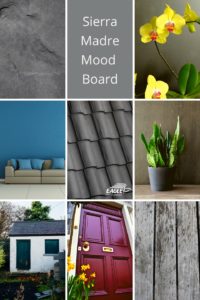 This first board highlights the wide variety of accent colors that can be paired in conjunction with gray exteriors and Sierra Madre.
Vivid colors like violet and yellow, and cooler tones such as emerald and blue, make this board come to life. Add in rustic elements like plank flooring and plentiful exterior shrubbery for a more earthy effect.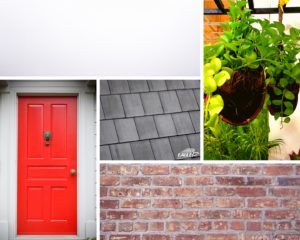 On the other hand, try Sierra Madre in our sleek, flat Bel Air profile to accurately complement a traditional colonial-styled home.
Accent the deep metallics of Sierra Madre by painting the exterior walls a light off-white color. If the structure has a brick façade, beautifully complement it with a bright red front door as reds and grays pair gorgeously with one another. For additional vibrancy, add luscious green hanging vegetation to the home's exterior.
For this last board, we chose the beauty of Sierra Madre in Ponderosa to perfectly enhance a coastal color palette. This emulated wood-shake profile is perfect for Cape Cod and Bungalow inspired homes.
As blue is a natural and common accent color to gray, pair the charcoal concrete tile roof with a light exterior paint to complement oceanic-inspired doors, aquamarine shutters or other colorful teal accents. Further enhance the seaside feel by painting the home a warm tan to tie in the nearby coastline.
Follow our Pinterest page to stay up-to-date on our latest inspiration boards, color pairings, featured homes and product offerings!