With design trends constantly evolving, it is imperative for homeowners, architects, designers and colorists alike to stay on top of changes and adapt to what's currently thriving in the market. Sherwin Williams, a global leader in the paints and coatings manufacturing industry, recently released their 2021 ColorMix Forecast, which predicts what will be trending in the coming year and emphasizes ideas of rhythm and balance in color. Taking shape in 40 different pigments across four versatile palettes, the colors chosen were a natural fit to pair with Eagle Roofing Products' diverse selection of ranges and blends. For this blog, we've chosen four Eagle concrete roof tile colors to complement each respective theme to help you reimagine your next commercial or residential project.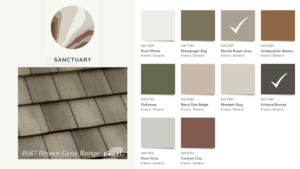 4687 Brown Gray Range in Bel Air
The first Sherwin Williams palette, Sanctuary, promotes the idea that less is more. This calming theme embodies warm minimalism and 4687 Brown Gray Range in Eagle's Bel Air profile offers as much. A subtle range of brown and gray, the product complements muted hues that speak volumes, such as SW 0037 Morris Room Grey. In addition, SW 7048 Urbane Bronze, the Sherwin Williams 2021 Color of the Year, embraces a cozy and chic aesthetic that captures the essence of the tile. Both paints blend beautifully with our material and keep in line with the concept of returning 'back to nature.'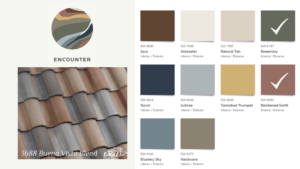 3688 Buena Vista Blend in Capistrano
Similar to the aforementioned, Encounter personifies a more modern and bohemian vibe. 3688 Buena Vista Blend, featured here in our Capistrano profile, suits this canvas as the tile's combination of light gray, terracotta and tan provides colorful equilibrium to earthy tones, such as SW 6187 Rosemary. Additionally, rich shades like SW 6053 Reddened Earth offer a touch of character to enhance the blended mixture of pastels.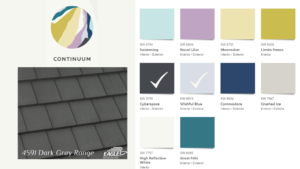 4591 Dark Gray Range in Bel Air
Switching gears, Continuum renders a hybrid of synthetic and natural elements that play into sculptural modernism. 4591 Dark Gray Range is the perfect choice to complement these bright and forward-thinking colors as grays are gaining popularity when it comes to contemporary architecture and style. This complexion showcases patterns like SW 6813 Wishful Blue that blend seamlessly into whites, charcoals and pops of colors within our environment. Inky hues such as SW 7076 Cyberspace pair gorgeously with darker shades of concrete roof tile while providing a stark contrast to the ethereal spectrum of pigment.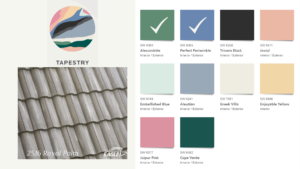 2516 Royal Palm in Malibu
The last palette of the bunch, Tapestry, centers around the topic of 'classic revisited' and gives us permission to play. Shown here in the Malibu profile, 2516 Royal Palm magnifies the sensory exploration as its soft gray shade offsets maximalism with an approach that is more modern and curated. Lavish jewel tones, including SW 0060 Alexandrite and SW 9065 Perfect Periwinkle, intensify creative expression and contrast the personality of the tile, thus allowing for a symmetry to the overall look of any structure.
No matter the design, an Eagle concrete tile roof is multifaceted and suitable for all exterior trends. Contact your local Design Center for more style tips or visit our website to browse all of our color offerings!