With the birds chirping and flowers blossoming, it's safe to assume that the season of awakening is upon us. A time for new beginnings, spring brings opportunity for homeowners to revitalize the look of their house whether that be updating the exterior with a fresh coat of paint, changing out yard décor, or even purchasing a new Eagle concrete tile roof. Be the talk of the neighborhood and rejuvenate your home's aesthetic with one of these magnificent springtime-inspired concrete roof tile colors that will enhance curb appeal year-round.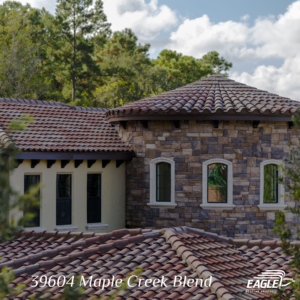 39604 Maple Creek Blend in Capistrano
To embody springtime flair is to embrace nature, pastels and muted tones. A delicate mixture of light brown, taupe, gray and tan, 39604 Maple Creek Blend not only captures this essence but pairs seamlessly with a variety of exterior details. These soft earth tones allow for versatility when matching paint for the body of home as well as other accents such as stonework, brick, stucco and much more.
4679 Light Gray Range in Bel Air
While charcoal grays can certainly darken and modernize any structure, 4679 Light Gray Range offers a range of light gray, perfect for an overall lighter and brighter look. No matter the architecture, a neutral roofscape as such will complement a variety of palettes, such as soft-hued yellows, baby blues, peacock greens and any other pale shades.



On the other hand, skip the subtle tints and go all out by illuminating your dwelling with a bold color, such as 2548 Palo Verde. This concrete roof tile radiates hues of light green paired with black and maroon streaks, ideal for complementing the surrounding landscaping and greenery in your yard. The mossy shade exemplifies a natural looking product and provides a unique touch to the spring vibe you're striving for.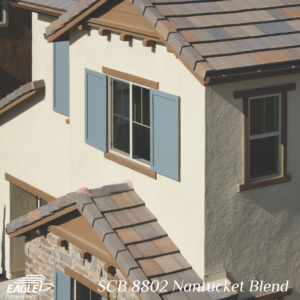 SCB 8802 Nantucket Blend in Bel Air
Depending on several factors, SCB 8802 Nantucket Blend is an alternative choice if you crave a pop of color on the roof. Although the blend is a combination of gray, tan and brown, sunlight and adjacent home accent colors can seemingly pull out blueish undertones in the grays, creating a pale yet soft and sophisticated appearance. With this multifaceted concrete roof tile, a little goes a long way.
Whether you prefer classic earth tones or desire vivacious pigmentation for the season of renewal, Eagle brings you peace of mind with our incredible catalogue of concrete roof tile colors. Contact your local Eagle Design Center to order a tile sample or visit our website to browse our entire products offering!
*These colors are not available in all regions.