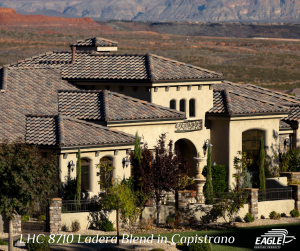 If you've recently purchased a new Eagle concrete tile roof, it might be time to consider updating the rest of the exterior for a more visually appealing look. In many ways, simplicity is key and a simple upgrade to your home's aesthetic will get the neighborhood talking. Taking your house's architecture and current decorative elements into consideration, here are some common exterior design tips that will complement your concrete tile roof and suit your residence, no matter the style.
Colors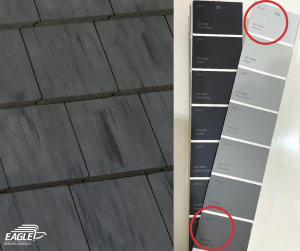 Whether you're looking for similar shades or loud and contrasting hues, it's imperative that your colors balance one another for a natural and harmonious look. When it comes to reroofing or repainting, homeowners tend to gravitate towards earth tones as these pigments are often found in nature, offer compatibility and stand the test of time by easily concealing external flaws. Some popular paint ideas include light grays, beiges, greiges, creams and off-whites.  Many designers suggest deciding on a single-color strip and going for two distant shades on that strip. Say you've chosen a dark charcoal roof – ideally you would pick a lighter tinge for the body and a darker one for the trim. Contrarily, you can always opt for a stark white trim for maximum yet balanced contrast.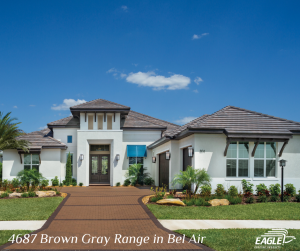 If you want to incorporate a splash of bold color, we recommend glossing your front door, windows, shutters or garage doors with a complementary hue. For example, if you've selected a deep brown roof and are playing around with a cream color scheme, a warm aqua or bright cerulean will tie everything together without overpowering the base. On the other hand, say your abode sports a more colorful roofscape – it's safest to stick with neutrals to avoid a busy and over-embellished exterior. If you're still unsure on what primary colors to go with, you can always visit your nearest paint store to obtain swatches for further inspiration.
Materials and Textures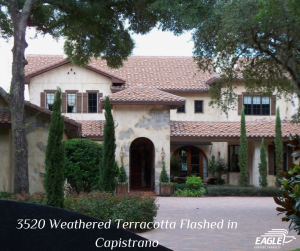 Once you've crafted a palette to your liking, you can expand on it by exploring contrasting building materials, textures and surfaces. Perhaps finishes such as brick or stonework already adorn your dwelling, or your custom build project allows for flexibility with design elements and you'd like to integrate stucco and pavers. No matter the case, matching your concrete tile roof is a seamless transition.
One benefit of concrete roof tile is its innate ability to complement traditional and contemporary architectural styles as well as different building or roofing materials including stucco siding, metal, wood, stone, brick, glass, wrought iron, and so much more. With this versatility and your chosen paints in mind, additional construction products such as stone or stucco offer similar earthy tones and textures but with greater depth and distinct dimension, bringing character and life to the structure. It's all about the fine lines and shapes!
Yard Decor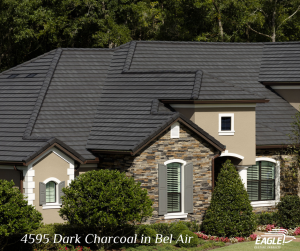 While colors and textures are a must in your design plans, supplemental yard décor can be just as important. Certain light fixtures can not only provide a safe lighting system, but offer a beautiful glow that accentuates the entire exterior at dusk and dawn. In addition, porch furniture and potted plants bring that 'homey' vibe and allows your personality to shine through. Landscaping also plays a big role in creating an inviting environment from colorful flowers in the garden to unique bushes, shrubs and trees surrounding the home. Many times, these are the most memorable aspects of your yard that draw the eye in to finer details, like intricate finishes and of course, your gorgeous tile roof.
By pairing colors, textures and yard décor with your concrete tile roof, you'll be sure to maximize the exterior's elegance and enhance its curb appeal. For more design ideas and inspiration, visit our Pinterest page or Design Corner Blog located on our website!