While the Bel Air profile is our number one selling tile, Eagle offers several other flat options meant to accentuate the beauty of your building, no matter the architectural style. Whether you're building a custom craftsman home or reroofing a beachy abode, it's important to choose a product that will not only protect your structure, but make the exterior details pop. Dazzle the neighborhood with one of our textured concrete roof tiles that enhance rustic architecture to really make a statement.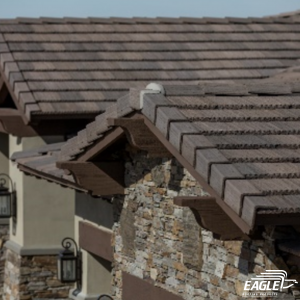 Ponderosa
If your structure adorns design elements found in nature, such as wood, stonework or brick, perhaps our Ponderosa profile is the shape you're looking for. As a beautiful wood shake emulate, this product's textured shadow lines graze the surface and help pull out the agrarian intricacies of your dwelling. In addition, this tile comes in many earth tones including charcoal and gray shades, browns, tans and rusted hues. No matter the color variation, Ponderosa is suitable for any natural-looking palette, especially on Craftsman, Prairie and Cottage architectural styles.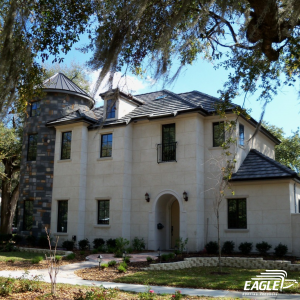 Golden Eagle
An upgraded wood shake look, our Golden Eagle profile combines a smooth surface with a partial broom swept appearance that allows you to create a unique design that welcomes many different styles from French Provincial to Modern Farmhouse or even a simple Ranch home. Where whimsical medieval meets 'country' décor, the roof tile can highlight symmetrical proportions or enhance the simplicity of rural living. Also available in a variety of deep and inviting earth tones, this profile seamlessly makes your residence more inviting.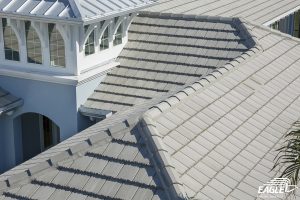 Tapered Slate
For a coastal property or beachy bungalow, our Tapered Slate profile offers charming character to the roofscape. Emulating natural slate, the product's sleek appearance combined with beveled sides and a chamfered edge provide radiant depth and dimension to not only the roof, but the entire structure. This tile is a fantastic opportunity to tie in with surrounding lush and greenery as the fine lines are a stunning contrast to the vast landscape.
With any of these aesthetically pleasing concrete roof tiles, you'll be sure to enhance curb appeal for years to come.
In need of more design tips or style inspiration? Visit our website or Pinterest page to browse color themes, gorgeous roof ideas and more!