When the time comes to select a new roof for your next residential or commercial project, it is imperative to pick the best roofing material on the market. Tested to withstand the harshest of elements, an Eagle concrete tile roof lasts the life of the structure, offers superior energy efficiency traits and is aesthetically pleasing to the eye. With over 150 unique ranges and blends available to choose from, Eagle is the ideal choice for your upcoming reroof or custom build.
Durability
Concrete roof tile is an inherently durable product thanks to the all-natural, raw materials that it is made up of – those being sand, cement, water, and oxide (for pigment). Combined, these ingredients add substantial heaviness to the tile, in turn producing a strong roofing material that can withstand extreme weather when compared to other products on the market.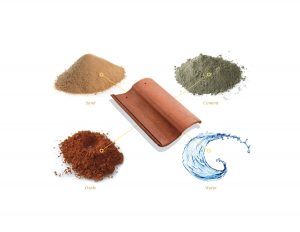 In addition to its durability, our concrete roof tile provides superior longevity as it has the ability to last the life of the structure it is installed on with proper maintenance.
Energy Efficiency
As aforementioned, concrete tile is made from all-natural materials, meaning they can be recycled once they reach their end of life on a roofscape compared to asphalt shingles that fill up landfills once their purpose has been fulfilled. In tandem with sustainability, concrete roof tile is also highly energy efficient.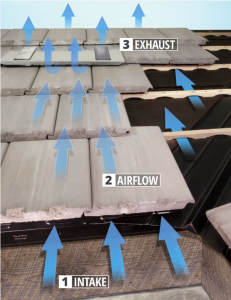 Tile has the ability to absorb and store heat throughout the day before slowly releasing it during the night. This is known as thermal mass and helps keep your home or workplace cooler throughout the summer and warmer in the winter months which reduces your overall heating and cooling costs. Should you wish for even greater efficiency, Eagle offers the Ventilated Roof System. This system is comprised of three key components:
Ventilated Eave Closure for easier air intake.
Arched Battens permit air to easily travel underneath the roof tiles after entering through the Eave Closure. As an added benefit, the arches facilitate water drainage and thus prevent water damage to the underlayment and roof deck.
O'Hagin Vents allow for the air to properly exhaust and exit the roof.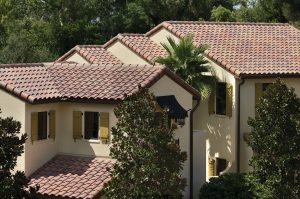 Versatility
With a wide variety of colors and several different profiles, Eagle offers the largest selection to choose from. Our products vary from Mediterranean-inspired S-shape barrel tiles to smooth yet modern flat tiles. Whether you're hankering for a rustic wood shake look, a contemporary vibe, or something in between, Eagle has the perfect match for any style thanks to the versatility that our profiles provide. Perfectly paired with the structure's architectural elements, an Eagle concrete tile roof will significantly increase the overall curb appeal of your home or commercial building.
To learn more about why concrete roof tile is the superior choice, contact the Eagle Account Representative nearest you!