The official start of winter doesn't begin for a few more days, but that hasn't stopped the festive cheer from permeating neighborhoods, 'round the clock holiday music and twinkling lights cropping up at every corner. If you're an admirer of the season's colorful hues, why not showcase your affinity to the most wonderful time of the year by adorning your home with a winter-inspired Eagle concrete tile roof? The design possibilities are endless thanks to the wide variety of beautiful products Eagle offers. Go ahead and find some inspiration with these vibrant and merry concrete roof tile colors.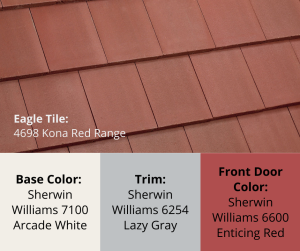 4698 Kona Red Range
Almost as vivid as Rudolph's red nose, 4698 Kona Red Range, featured here in our svelte and modern flat profile, Bel Air, incorporates a lively and rich range of deep crimson. Radiating hues akin to candy canes, jingle bells and Poinsettias, Kona Red Range offers an elegant yet timeless look for your home year-round. Should you choose to adorn your dwelling with this lively product, consider painting your exterior walls in a light neutral color, such as Sherwin Williams 7100 Arcade White. The added contrast between the white walls and cherry shade will draw onlookers to not only your beautiful new tile roof, but to your overall color scheme as well. Accent the exterior with a flat, soft gray, like 6254 Lazy Gray. Tie the whole look together by glossing the front door in 6600 Enticing Red, a beautiful deep ruby.
2634 Kings Canyon Blend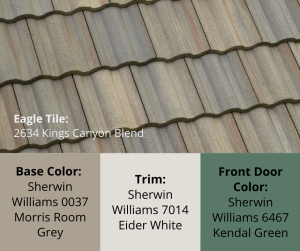 If you're after a beautiful assortment of joyful colors, look no further than 2634 Kings Canyon Blend, pictured here in our contemporary medium barrel profile, Malibu. Inspired by the hues of decorated Christmas trees, Kings Canyon Blend offers homeowners a blend of dark greens, playful tans and rustic red and black streaking for added variance to the roofscape. Enhance the earth tones by repainting the exterior of the building in a muted greige, like Sherwin Williams 0037 Morris Room Grey. The taupe undertones of this color create a natural connection with the rooftop's neutral shades. Break up the color by trimming the windows in an off-white, such as 7014 Eider White. Finally, paint the front door in 6467 Kendal Green, a cool shade of emerald that provides a welcoming atmosphere.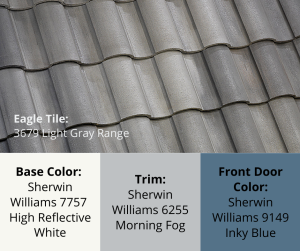 3679 Light Gray Range
A stunning and truly unique offering is 3679 Light Gray Range, shown here in our luxurious S-shape barrel profile, Capistrano. Light Gray Range's beautiful pigments vary from a snowy silver to a light charcoal hue, offering a wintery vibe to any rooftop. If you're after a light and frosty color scheme, gloss your home in a bright pearl, such as Sherwin Williams 7757 High Reflective White. Tie in the roof tile by accenting the exterior trim with a faint gray, like 6255 Morning Gray. Lastly, complete the winter wonderland theme by painting the front door in 9149 Inky Blue, a muted yet deep Aegean color.
Whether you prefer traditional earth tones or long for rich hues reminiscent of the holiday season, Eagle has you covered with our spectacular portfolio of concrete roof tile colors. Contact your local Eagle Design Center to order a tile sample or visit our website to browse our entire products offering!
*These colors are not available in all regions.