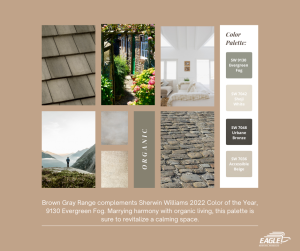 When it comes to redesigning your exterior, there is no wrong or right answer. However, with a new year comes new trends and what better way to freshen up your space than with Eagle's Color of the Year: Brown Gray Range.
Homeowners and building owners alike are shifting towards elegant neutrals when decorating their structure. One of the many reasons we chose this concrete roof tile for 2022 is due to its simple yet versatile design. Whichever profile you choose, Brown Gray Range pairs beautifully with a plethora of colors and other building materials like brick, stone, pavers and more. Check out the various ways to incorporate this gorgeous tile into your renovation, no matter your personal style or preference.
Earth Tones and Neutrals
A nature-inspired pick, Brown Gray Range symbolizes organic living at its finest as its earth tones suit any number of neutral paint choices, like other shades of brown and gray, beiges, tans, creams, and more. An ideal pairing for a harmonious look, this roof tile also works well with other calming colors found in our habitat like Sherwin Williams 2022 Color of the Year: 9130 Evergreen Fog. The subdued gray-olive hue provides a tinge of pigment to an otherwise muted palette, yet doesn't overshadow. Super adaptable, a Brown Gray Range concrete tile roof with any of these selections will undoubtedly create a soft, inviting exterior.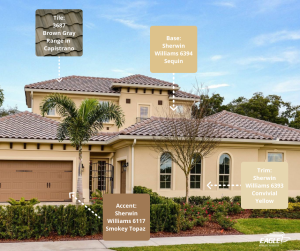 A Pop of Pigment
Perhaps you'd like to opt for a natural palette with a bit more splash of color. A popular choice would be some sort of ivory or subtle yellow as warm shades will complement the brown in the tile, while other cool tints will pair with the gray. No matter the case, this versatile option is sure to draw the eye to your roofscape and enhance curb appeal.
For example, we drew inspiration from this photo to match similar Sherwin Williams paints with 3687 Brown Gray Range in our Capistrano profile. A golden hue, like 6394 Sequin, allows you to offset the base with a lighter yet cooler trim, such as 6393 Convivial Yellow. With an already striking exterior, we recommend coloring the front and garage doors or any other accents with a stark amber or chocolate shade, like 6117 Smokey Topaz, that will tie everything together, including the gorgeous concrete tile roof.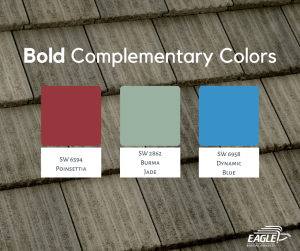 Other Bold Complementary Colors
Love color? Take pigmentation one step further with other bold complementary colors to Brown Gray Range. This tile pairs magnificently with various reds, greens, blues, purples and so much more. Some of our favorite Sherwin Williams picks include 6594 Poinsettia, a deep ruby hue, 2862 Burma Jade, a seafoam green, and 6958 Dynamic Blue, an electric choice true to its namesake. Whether you're looking to spruce up some accent pieces or go all out with the exterior, one of these choices is sure to draw the eye to the roofscape. With Eagle's Color of the Year, the possibilities are endless.
For more design tips on how to revitalize your space, visit our Design Corner Blog or Pinterest page!