With so many roofing products available in the construction industry today, it can be difficult to determine what is considered a tile roofing product and what is not. It is an important concept to understand since tile roofs are so different from other roofing materials like asphalt shingles, metal, and wood shingles and shakes – which are not considered part of the tile family. From their history and beauty, to their durability and installation processes, tile roofs are in a roofing category of their own.
Tile roofs have been around for centuries. Like any roofing product, they were created to provide a barrier between the inside of a structure and the harsh outside elements. Roof tiles are made of local, natural and recyclable materials such as terracotta (also known as clay), slate and concrete. All three of these roofing materials offer lifelong durability and fireproofing; two superior qualities that continues to set them apart from the competition. Concrete roof tiles, like those manufactured by Eagle Roofing Products, offer additional benefits including: versatility in design and color, energy efficiency, greater protection against high winds, hail and freeze/thaw climates, and they are less expensive than genuine clay or slate. As you can see in the graph provided, the lifespan of slate, clay and concrete tile roofs is far longer than any other roofing material.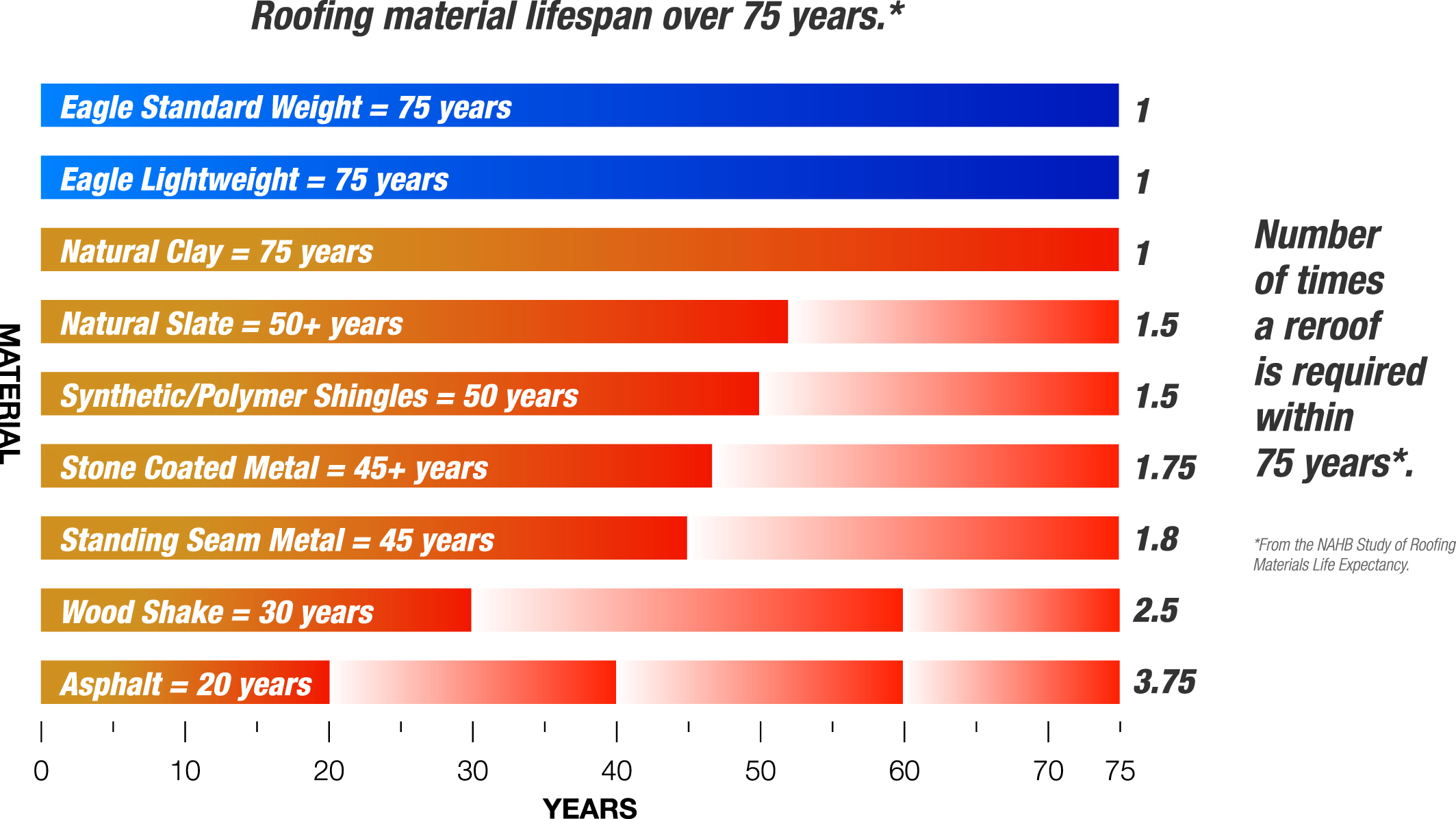 To conclude, a roof can only be considered a tile roof if the tiles are made of one of the following materials: slate, clay or concrete. Not only are they weather-resistant and long-lasting, but they are also one of the most environmentally-friendly roofing products available. Tile roofs are easily recyclable and reusable, and help reduce energy costs due to their excellent heat insulation properties and the way they are installed. Not to mention, they are a beautiful architectural statement piece that adds dimension and color to a structure's overall exterior. Qualities that other common roofing materials, such as metal and asphalt shingles do not have.

For more information regarding tile roofs and Eagle Roofing Products, visit https://eagleroofing.com/why-tile/. For information regarding tile installation certifications or to find a TRI certified roofing professional for your commercial or residential project, check out the Tile Roofing Industry Alliance.