Understanding the characteristics of your home is an important step to take when choosing a new roof, as the wrong profile can alter the overall feel of the structure. There are many different architectural styles that are common in the various regions of the US, and Eagle Roofing Products offers a wide variety of profiles and colors that will beautifully complement these designs.
Here are four Eagle concrete roof tile profiles that pair flawlessly with four distinct architectural styles.
Mediterranean Architecture with Eagle's Capistrano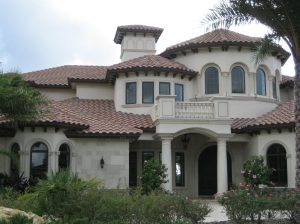 Stucco walls, balconies, arched windows, stonework, and sunny neutrals are some of the characteristics that embody Mediterranean style architecture as featured in this beautiful home. At the crown of this structure is Eagle's majestic Capistrano profile in the color 3603 Sanborn Blend, a stunning combination of terracotta, brownish tan, and black streaks. The semi-cylindrical silhouette of the roof tile is the perfect complement for this design providing a beautiful, classic old world look that resembles European clay roofs in shape and color.
Modern Farmhouse with Eagle's Ponderosa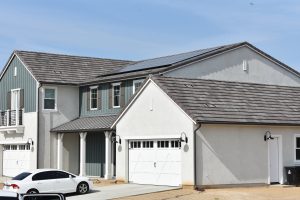 Modern Farmhouse is a growing trend that blends the traditional country look with clean lines and a sleek aesthetic that is found in contemporary design. To draw out the comforting elements of the home, Eagle's Ponderosa concrete roof tile in the color 5810 Avondale Blend is the perfect backdrop, adding warmth with a simple look.  As a more durable and cost-effective alternative to natural wood shake, Ponderosa features beautifully textured shadow lines that graze its surface to deliver a truly rustic wood appearance. The flat shape of the roof tile further highlights the natural texture incorporated into it, adding visual interest and stunning beauty to the unique essence of the overall façade.
Contemporary Architecture with Eagle's Bel Air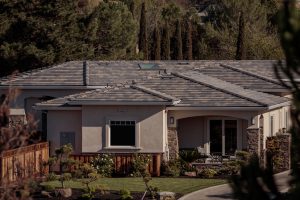 Contemporary homes are all about minimalism, energy efficiency, mixed materials, and lots of natural light. Subtle colors for the body and darker, moodier shades for the roofscape will continue to be trendy for years to come. Eagle's 4602 Concord Blend in Bel Air is the right amount of charcoal and tan that balances the combination of wood and stonework of this stunning residence. The smooth texture and modern elements of this roof tile further highlights the remarkable features and modernness of this architectural work-of-art.
Craftsman with Eagle's Golden Eagle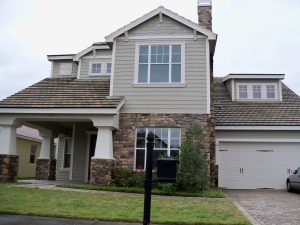 Emulating an upgraded wood shake look, Eagle's Golden Eagle profile combines a smooth, flat surface with a partial broom swept texture that grabs attention. Pictured in the color 1634 Kings Canyon Blend, this profile is fitting for Craftsman architecture as it accentuates exterior finishes such as stonework, siding, and tapered columns, and the medium pitch roof showcases the tile beautifully.
If you need help deciding which profile and color would suit your home, visit your nearest Design Center or contact your local Eagle Account Representative; we are here to support you every step of the way.