2023 Color of the Year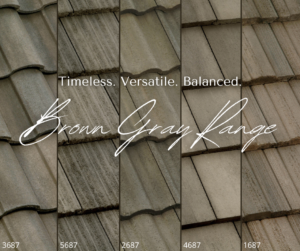 Extended into 2023 as our Color of the Year, Brown Gray Range continues to shine as a best-selling shade. Inspired by natural elements such as earth, wood and stone, this timeless tile with velvety charcoal and deep mocha hues will elevate your curb appeal to the next level. Available nationwide in five profiles*—Bel Air, Capistrano, Malibu, Golden Eagle, and Ponderosa—your Eagle Roof Tile in Brown Gray Range fits a myriad of architectural styles and exterior finishes.
*Profile availability varies by region, please refer to our MAP for your region's availability.
Harmonious Beauty
The stylish elegance of Brown Gray Range makes this concrete roof tile incredibly versatile. No matter your home's architectural style, our variety of profiles ranging from smooth to textured flat shapes, as well as high and medium barrels offers a plethora of choices for its personality. A concrete tile roof with this color combination can stand on its own as a spectacular architectural statement or pair beautifully with design elements like intricate landscaping, stonework, woodwork, and pavers. You can incorporate Brown Gray Range in many ways for a fashionable, inviting look.
Nature-Inspired Luxury
Create the home exterior of your dreams with Brown Gray Range and soothing shades inspired by the
wonders of nature. The restorative earthy tones in this tile look spectacular with light beiges, tans, greiges and dark browns.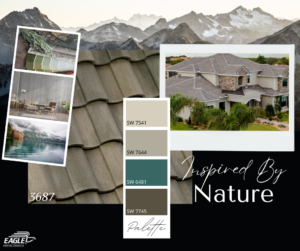 Reminiscent of cool mountaintops, the soft gray undertones in Sherwin-Williams 7541 Grecian Ivory make it a great choice for a clean exterior base. Trim your windows and doors with the stone-like Sherwin-Williams 7644 Gateway Gray for minimalistic, neutral contrast. This combination of greige tones will bring out the tranquil gray hues in your concrete roof tile. A deep teal green that will remind you of vast mountainside lakes, Sherwin-Williams 6481 Green Bay is a splendid option for your front door or decorative elements. Add depth to your exterior by incorporating Sherwin-Williams 7745 Muddled Basil in pavers, bricks, garage doors or flower pots.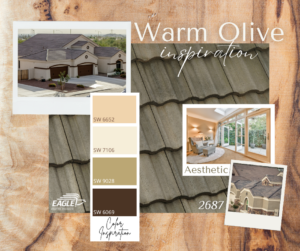 As we continue to draw from the earth, we can't help but find inspiration in the calming warmth of olives and olive wood. Use Sherwin-Williams 6652 Flan as a creamy warm-toned beige for the body of your home. For a prominent touch of relaxing green, incorporate Sherwin-Williams 9028 Dusted Olive in the trim and bring out the ash hues in the concrete roof tile. Opt for a more neutral trim with Sherwin-Williams 7106 Honied White and use Dusted Olive as an accent color. Finally, accentuate with a dark, rich brown like Sherwin-Williams 6069 French Roast to bring out the mocha hues in the tile and pull the finished look together.
There are so many possibilities for a stunning, distinguished exterior design with Brown Gray Range. Explore the luxurious modernity of this concrete roof tile by ordering a free sample or contacting your nearest Eagle Design Center.