As we begin to transition into Fall and prepare for football parties and holiday gatherings, now is a good time to refresh your exterior for a more festive look. Utilize warm shades of reds, oranges and yellows for an inviting and seasonal façade and pair it with a stunning Eagle concrete tile roof that is durable, colorful and fit to fashion any abode.
Make Autumn Last All Year-Round
The Autumnal hues we all know and love don't have to remain in pumpkin spice season. Modern design trends are shifting toward soothing, muted palettes to help you create a sanctuary from the stresses of everyday life. There's no better way to stay relaxed and cozy than with pigmented tints of earthy seasonal stains.
Curl up by the campfire on a crisp evening with rich wood accents in the form of lanai furniture, dining tables and gazebos. With such a warm scheme, uncultivated accents are a wonderful grounding influence to contrast the richness of the palette. Raw or exposed wood in particular give a lovely appearance of simplicity and decadence that stands out magnificently in outdoor entertainment spaces.
If you live in a climate with intense humidity, natural wood furniture may not be an option. However, wicker furniture is an excellent substitute to stand the tests of the elements. There are endless possibilities for neutral tones from a gorgeous white oak appearance to deep cherry wood appeal. Whether as a beautiful outdoor sofa or end table, wicker furniture is a durable and stunning option to furnish your sunporch.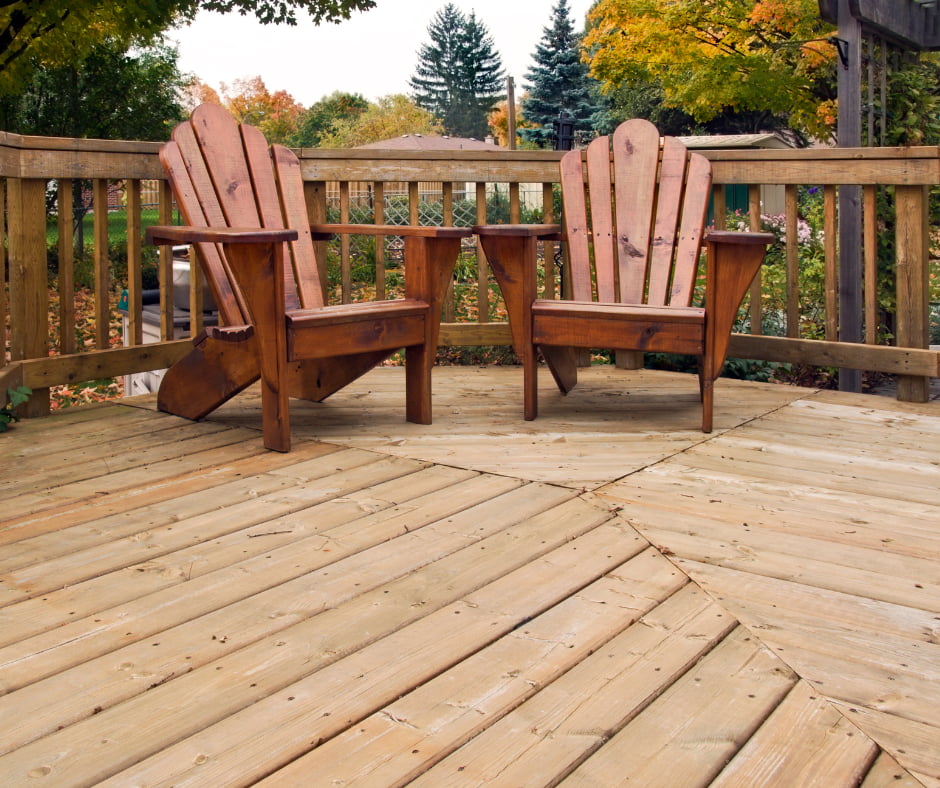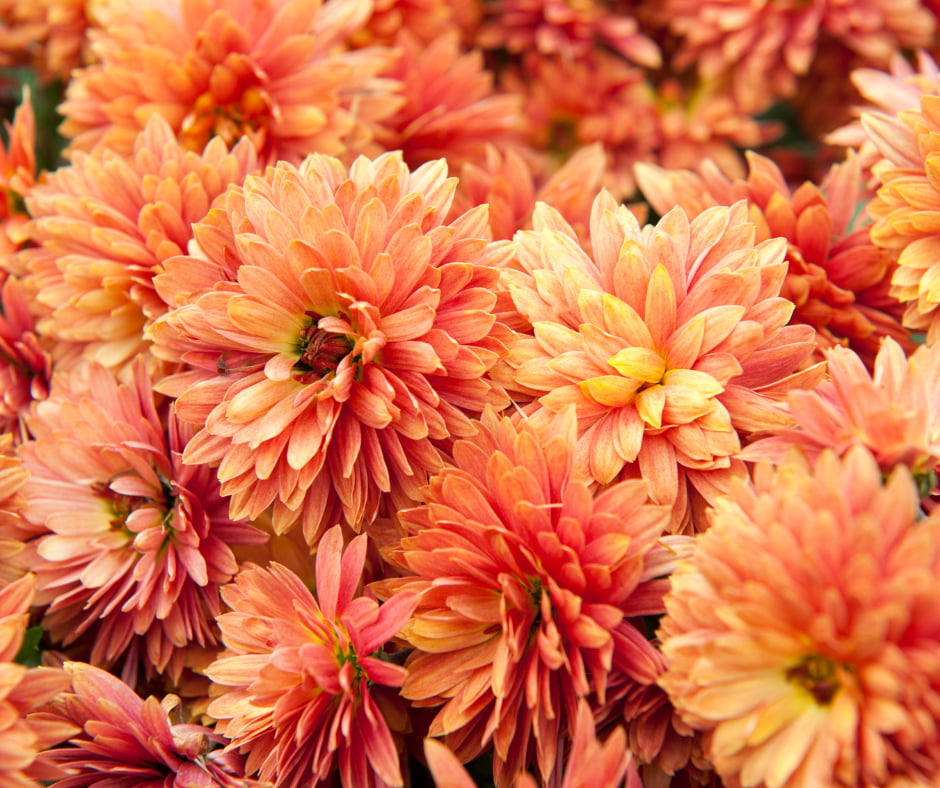 Organic influences in the form of landscaping is another great way to make a statement this Fall. When selecting which plants and shrubs to accent with, nothing says Autumn like a lavish bouquet of Chrysanthemums. Available in peach, lavender, lemon and maroon tones, these gorgeous flowers are a lovely and welcoming addition to your exterior. In the same vein, lavender, marigolds, mums and daffodils are a great supplement to landscaping that craves a variety of foliage for additional texture and dimension. Don't forget to add in rich neutrals with mulch or gravel to contrast the light, delicate touch of the florals.
Of course, seasonal décor items are a must-have for harvesttime. Place pumpkins on your porch for a welcoming entryway that entices guests to feel one with the season. For added touches, place holiday-themed pillows and flannel-patterned throw rugs on your veranda for some fun and inviting accents. To go the extra mile, place hay bales and scarecrows on your front lawn inspired by corn mazes and pumpkin patches from our childhood memories. Whatever you choose to decorate with, playful ornamentation is the best way to make your home a Fall-themed façade.
The Ultimate Pairing
Now that you have ideas of how to beautifully update your exterior, complementing it with a stunning and long-lasting concrete tile roof would be the icing on the cake.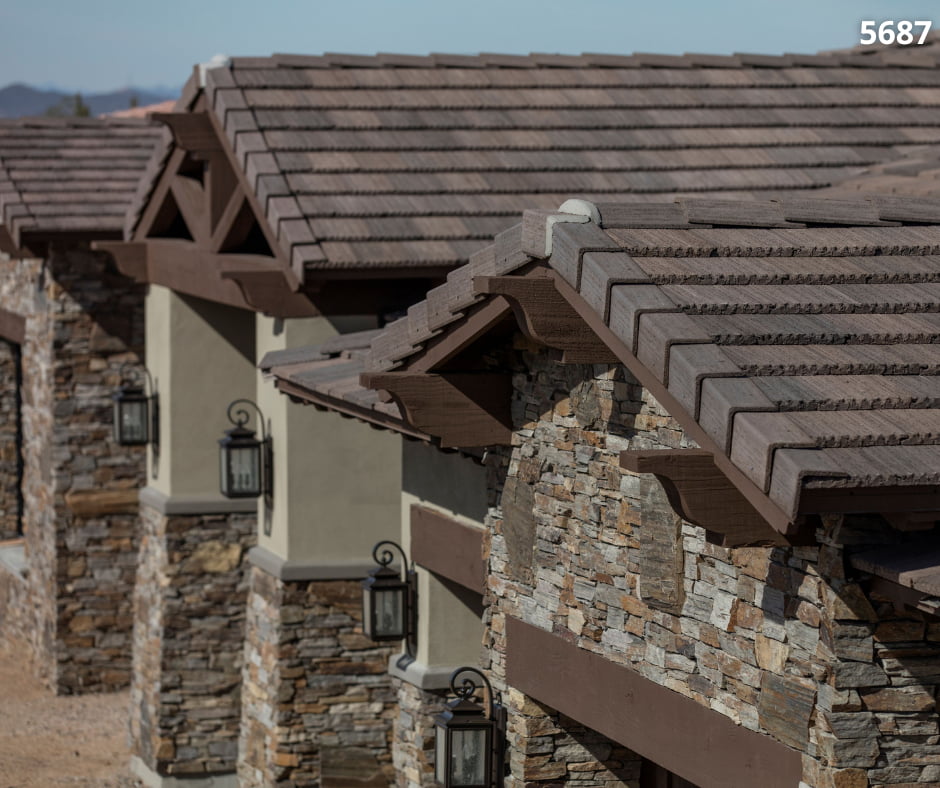 2773 Walnut Creek Blend in Malibu is the perfect mixture of tan, mocha and orange hues for that quintessential Fall look. In our Malibu profile, the subtle waves of the tile add a touch of dimension to make the colors pop. The end result is an alluring roofscape inspired by Autumn palettes.
If terracotta shades aren't your style, brown and tan tints are an excellent alternative. Consider our 2022-2023 Color of the Year, Brown Gray Range pictured here for a warm, comfortable arrangement that alludes to Fall. Using cream coatings and Autumn-inspired landscaping, you can still create an abode touched by the seasons.
No matter the architectural style of your home or even the time of year, Fall pigments are here to stay in exterior palettes for years to come. For more style tips and inspiration to revolutionize your exterior, contact your local Eagle Account Representative to order a tile sample or visit our website to browse all roof tile offerings!