April 2023 Color of the Month

Light Gray Range
Our Color of the Month Light Gray Range is nothing short of elegant and stylish. With spring temperatures on the rise, this cool tone was the perfect choice for April to offset the heat. Showcasing a range of ashen hues, this concrete roof tile is available in three of our luxurious profiles*: Bel Air, Capistrano, and Ponderosa. It is a perfect option for a modern, updated look and complements a variety of exterior paints including warm and cool shades.
*Light Gray Range is not available in all profiles or regions. For a full list of products in your area, please visit the BROWSE TILES section of our website.
Request a FREE Sample
CLICK HERE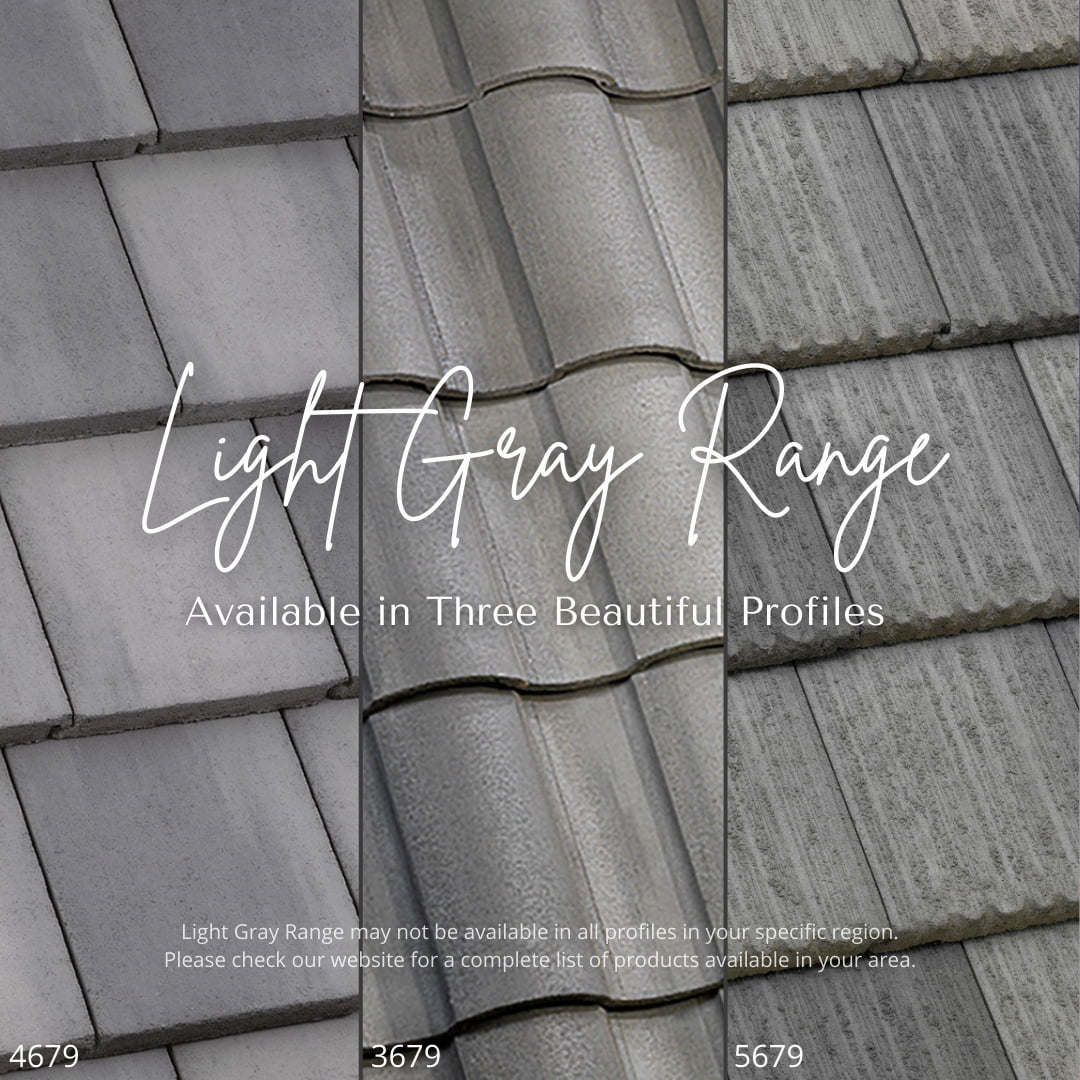 Design Trends and Versatility
Gray has become increasingly popular in exterior design trends in recent years. The cloudy hues of Light Gray Range complement a wide range of architectural styles to achieve a classy, sleek presence. Combine this colorway with vibrant paints and décor to create a balanced façade or pair it with an offwhite scheme so the roofscape serves as a stunning focal point for a modern, simplistic appearance.
Presented here in our dapper Bel Air profile, this look offers a fashionable, fresh finish to Contemporary, Craftsman and Midcentury modern architecture. For Cottage, Cabin or Ranch-style homes, our wood shakelike profile Ponderosa is the ideal pick. If you're after a gorgeous barrel tile roof for a Spanish or Mediterranean structure, our high S-profile Capistrano will give it the graceful touch it needs.
Neutral and mid-toned, this sophisticated gray works well with a variety of regional landscapes and different surroundings. Bright pink flowers, tan outdoor furniture and luscious green landscaping are just a few creative elements that pair beautifully with Light Gray Range. Such a versatile color range can be used in so many ways to boost your curb appeal to new heights.
Color Exploration
Light Gray Range complements a wide variety of paints due to its neutral and stylish pigmentation. We included two sensational exterior schemes below so you can see examples of how this tile pairs with both cool and warm hues.
Embrace the cool tones in the roof tile with a soothing seafoam scheme. Choose a light blue-gray such as Sherwin-Williams 9136 Lullaby as your base for an overall calming vibe. Bring modernness to your structure with a dark charcoal like Sherwin- Williams 6258 Tricorn Black for your trim and garage door. For a cohesive look, use this shade on your front door as well, or make it pop with a beautiful teal hue like Sherwin-Williams 6479 Drizzle. Soften the overall look by using the charcoal and teal in this palette, as well as a pretty shade of light blue, such as Sherwin-Williams 6771 Bathe Blue in beautiful decorative elements like plant pots, outdoor furniture, pillows, and rugs. Such an alluring color scheme is perfect for emulating a seaside abode.
Opt for a lively yellow scheme inspired by springtime sunshine with a base like Sherwin-Williams 6700 Daybreak. This creamy yellow will bring out the brightness in the roof tile and provide a delightful foundation for the rest of your paint choices. Trim your windows and doors with Sherwin-Williams 6388 Golden Fleece for a touch of depth and gold hues. Add a sunny tone such as Sherwin-Williams 9016 La Luna Amarilla to your decorative elements in the form of pillows, flowers, and welcome mats. Combine these shades with neutral whites and browns on your driveway, front door or patio furniture for an overall chic, cheerful look.
The possibilities are endless for enhanced curb appeal with an Eagle Light Gray Range concrete tile roof. Bring sophistication, modernism and elegance to your residential or commercial property.
For More Information or to Request a FREE Sample
More Style Inspiration