December 2022 Color of the Month

Kings Canyon Blend
We are closing out 2022 with a gorgeous, earthy forest hue that reminds us of peace, warmth and joy associated with the holiday season. Kings Canyon Blend has a balanced combination of dark greens and playful tans, with touches of red and black streaking, adding variation to the overall roofscape.
This stunning concrete roof tile is available in our profiles Capistrano, Malibu, Bel Air, Golden Eagle, and Ponderosa, making it easier for you to choose the ideal crown for your next commercial or residential project.
Design Trends and Versatility
Simple, clean exteriors are always on trend, and for that reason, a concrete tile roof is an excellent complement to add a touch of glamour to your overall space. A color like Kings Canyon Blend provides a pop of brightness to achieve a beautiful well-balanced look. The tan shade on this roof tile works as a perfect instrument for the transition between the delicate green and cheery red streaks.
The black streaks tie everything together, allowing for versatility to match a wide variety of undertones and palettes. Exterior elements that allude to natural materials such as stonework or wood accents are an optimal match for Kings Canyon Blend as they will emphasize the brown shades present on it and highlight the organic neutral trend.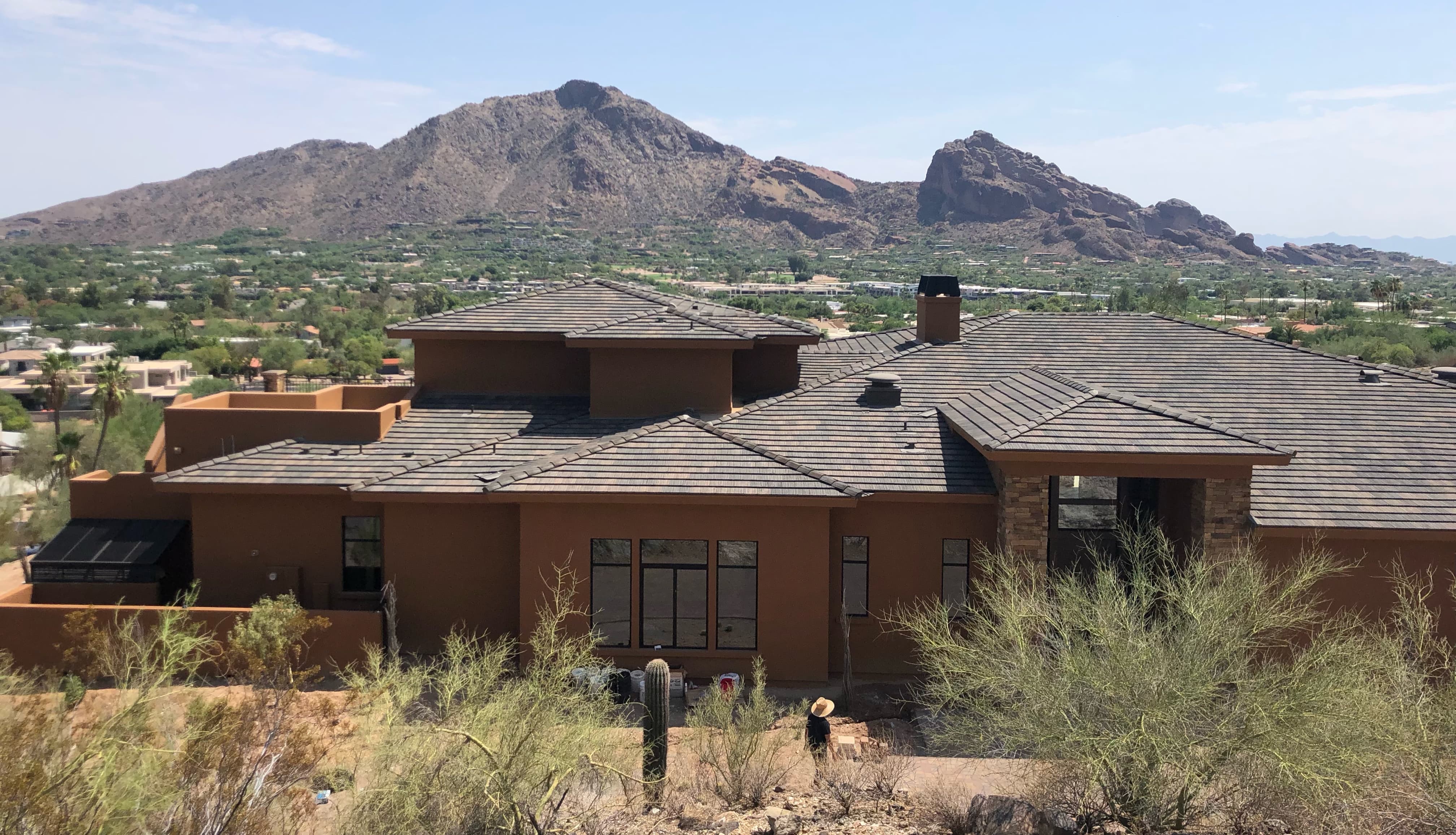 Color Exploration
The sophisticated, timeless shades of Kings Canyon Blend create a beautiful yet versatile color family that plays well with both cool or warm undertones, making it the ideal choice for those homeowners and designers that are looking to incorporate a distinctive crown to the exterior of their structure for added curb appeal.
This first picture, illustrating 2634 Kings Canyon Blend in our profile Malibu, showcases flawlessly how a neutral, warm color palette can bring out the elegant tan pigments on this concrete tile roof. The off-white body paint, similar to Sherwin-Williams 6379 Jersey Cream, that varnishes the exterior of this home is the perfect backdrop to allow the roofscape to be the main focal point. Adding a darker shade similar to Sherwin-Williams 7048 Urbane Bronze, which is a deep, rich brown helps bring out the black streaks on Kings Canyon Blend and adds more dimension to the building's architectural details.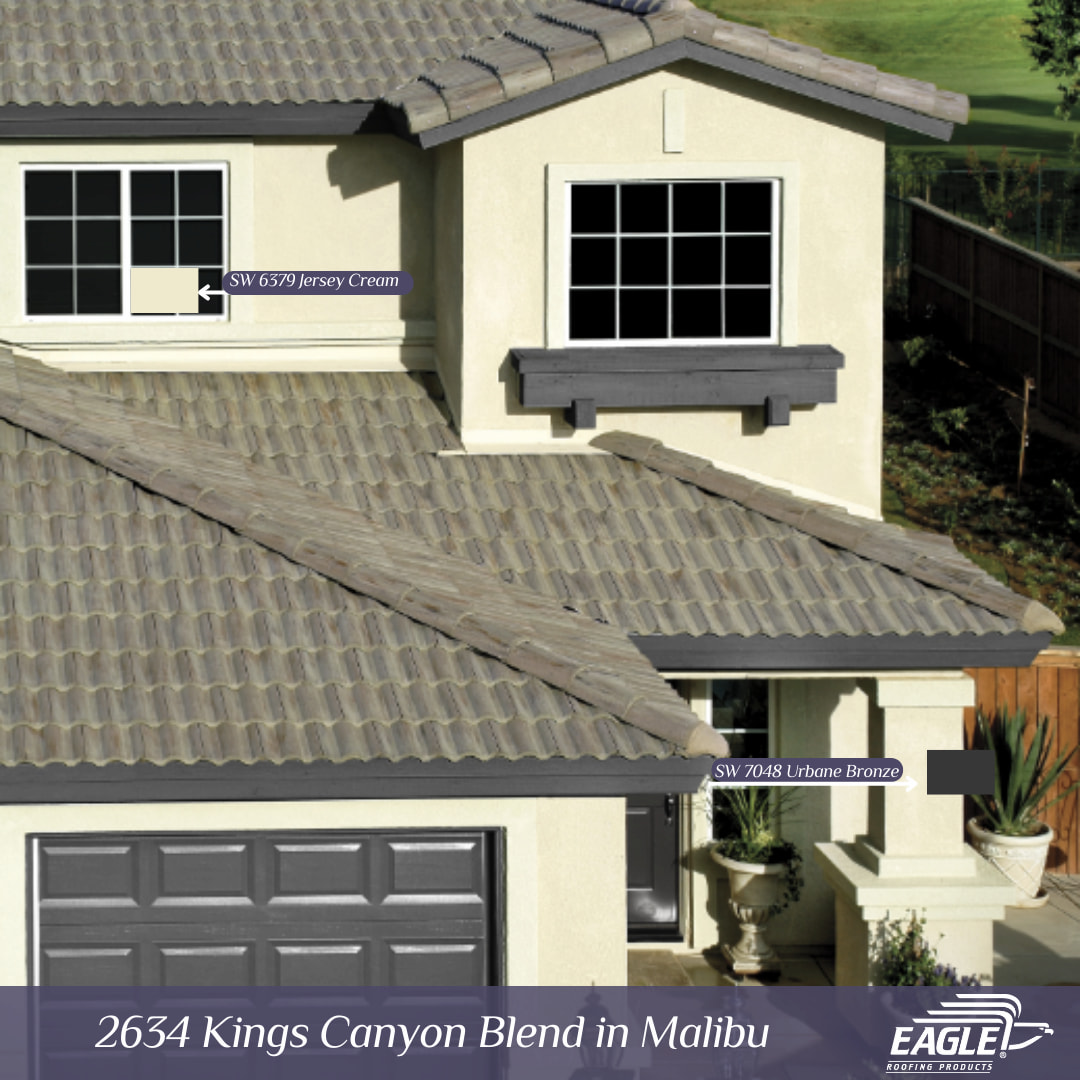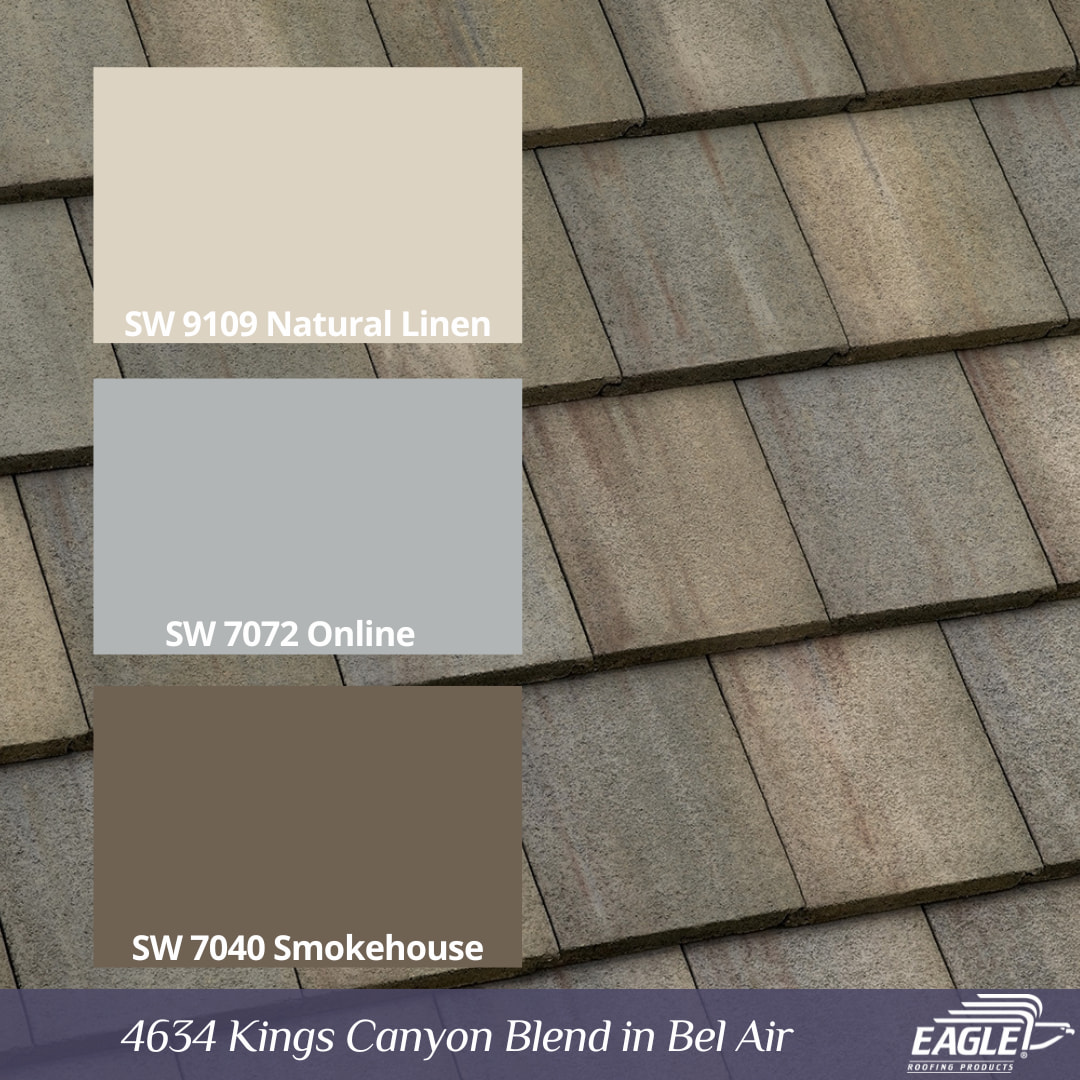 A gorgeous example of a cool hue combination, that leans a little warm, and would match up magnificently with Kings Canyon Blend starts with Sherwin-Williams 7072 Online. Coating the base with this modern light gray paint creates contrast with the tile setting it apart from the structure. Sherwin-Williams 7074 Smokehouse is ideal for trim and shutters as the brown paired with the gray offers a balanced, organic finish that can help elevate your exterior. If a touch of light is desired, Sherwin-Williams 9109 Natural Linen is the winner as this soft muted beige adds brightness and warmth to this scheme by beautifully tying everything together while bringing out the rustic red streaks present on Kings Canyon Blend.
To request a free sample of Kings Canyon Blend* in the profile of your choice, fill out our contact form or connect with your local Eagle Account Representative today!
*DISCLAIMER: *Kings Canyon Blend is only available in the Western Half of the United States and profiles vary by region. Contact your local Eagle Account Representative for any assistance you may need.
More Exterior Style Inspiration