January 2023 Color of the Month

Dark Charcoal
Let us introduce you to Dark Charcoal, our January 2023 Color of the Month. This color has been among the most popular for homeowners looking to modernize the look of their homes and builders looking to keep up with current exterior design trends. This marvelous concrete roof tile is your opportunity to start the new year on the right foot and boost your construction's curb appeal and value with a product that will last up to 75 years or the life of the structure.
Trends and Versatility
Trends come and go, but this concrete roof tile is ideal to adorn the exterior of your home for many years to come. New design currents can be scary for homeowners, as they do not want to make a mistake while making such a big financial investment as buying a new property or remodeling their long-term home. Choosing Eagle's Dark Charcoal is a great choice as it provides flexibility to be able to change exterior paint and décor finishes, providing a beautiful neutral focal point that will coordinate with most desired palettes.
For the year 2023, mixed textures, dark and earthy colors, black and white palettes, and accent colors are in, but those are trends that can easily transition into a timeless retreat. Dark Charcoal can take your roofscape to the next level of chic and modern to achieve instant impact, yet it is neutral enough to fit into a classic scheme.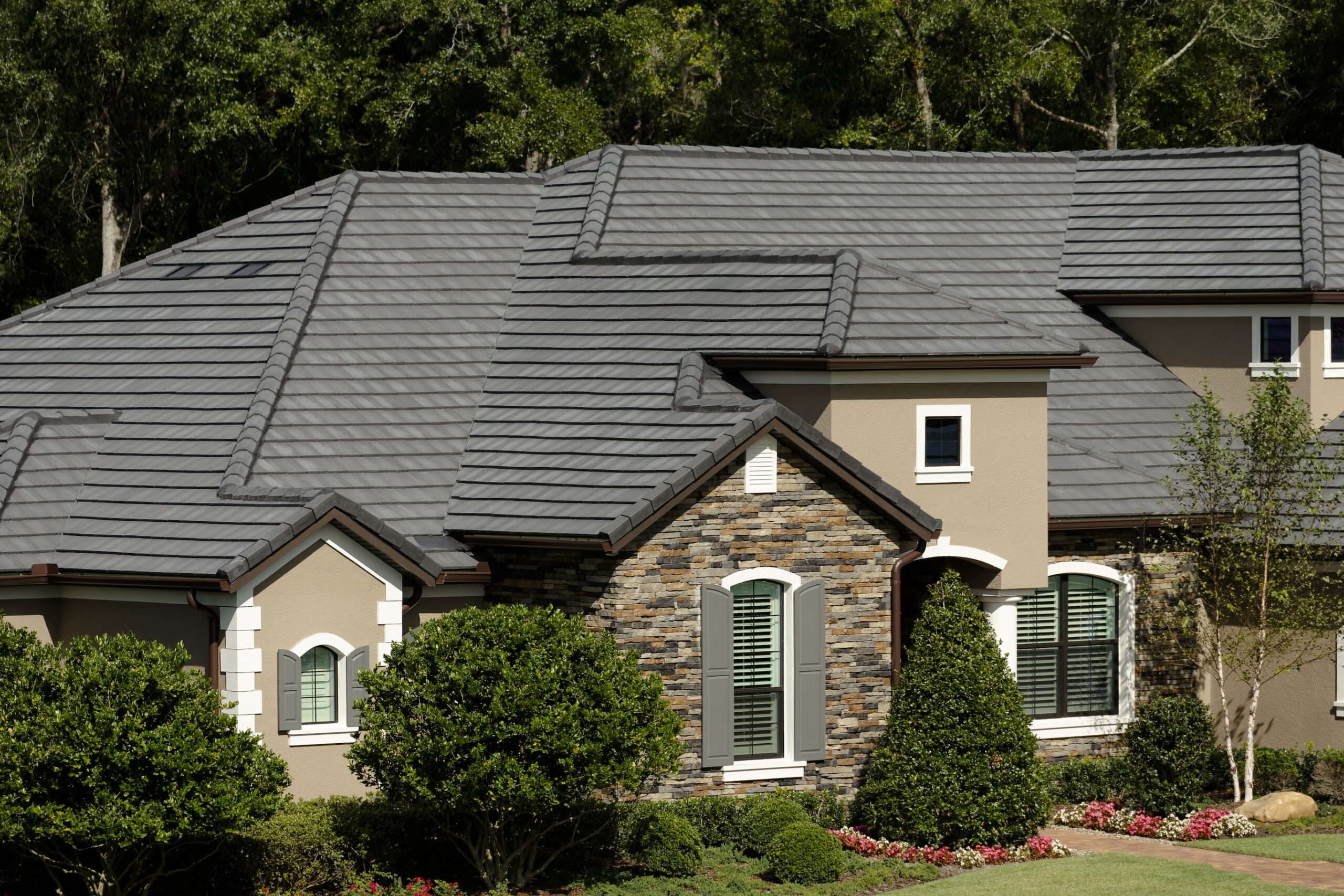 A great example of a sophisticated, neutral palette is this home where mixed materials like the tan, brown and gray stonework and gray wood shutters were used to accomplish a contemporary, organic look that will last for years to come. The Dark Charcoal concrete tile roof ties it all together, providing a bold pop of color and sleek, cohesive appearance for a stunning result.
This color is available in all our profiles* Capistrano, Malibu, Bel Air, Tapered Slate, and Ponderosa, allowing you to choose which finish is the ideal one for your next project without compromising other architectural elements on your construction.
*Profile availability varies by region, please refer to our MAP for your region's availability.
Color Exploration
Rich shades of charcoal continue to be popular in both interior and exterior design for 2023. If you are considering Dark Charcoal to adorn the crown of your home, here are two unique color choices to pair it with.
This first color palette involves an extravagant blue such as Sherwin-Williams 6967 Frank Blue, which is guaranteed to capture the attention of your guests. Use it as a pop of color for your front door or decorative elements. For the body, Sherwin-Williams 7014 Eider White is going to achieve the minimalistic, neutral finish that is most sought after. Lastly, frame your windows with a soft blue hue such as Sherwin-Williams 9065 Perfect Periwinkle, and allow the deepness of Dark Charcoal to shine.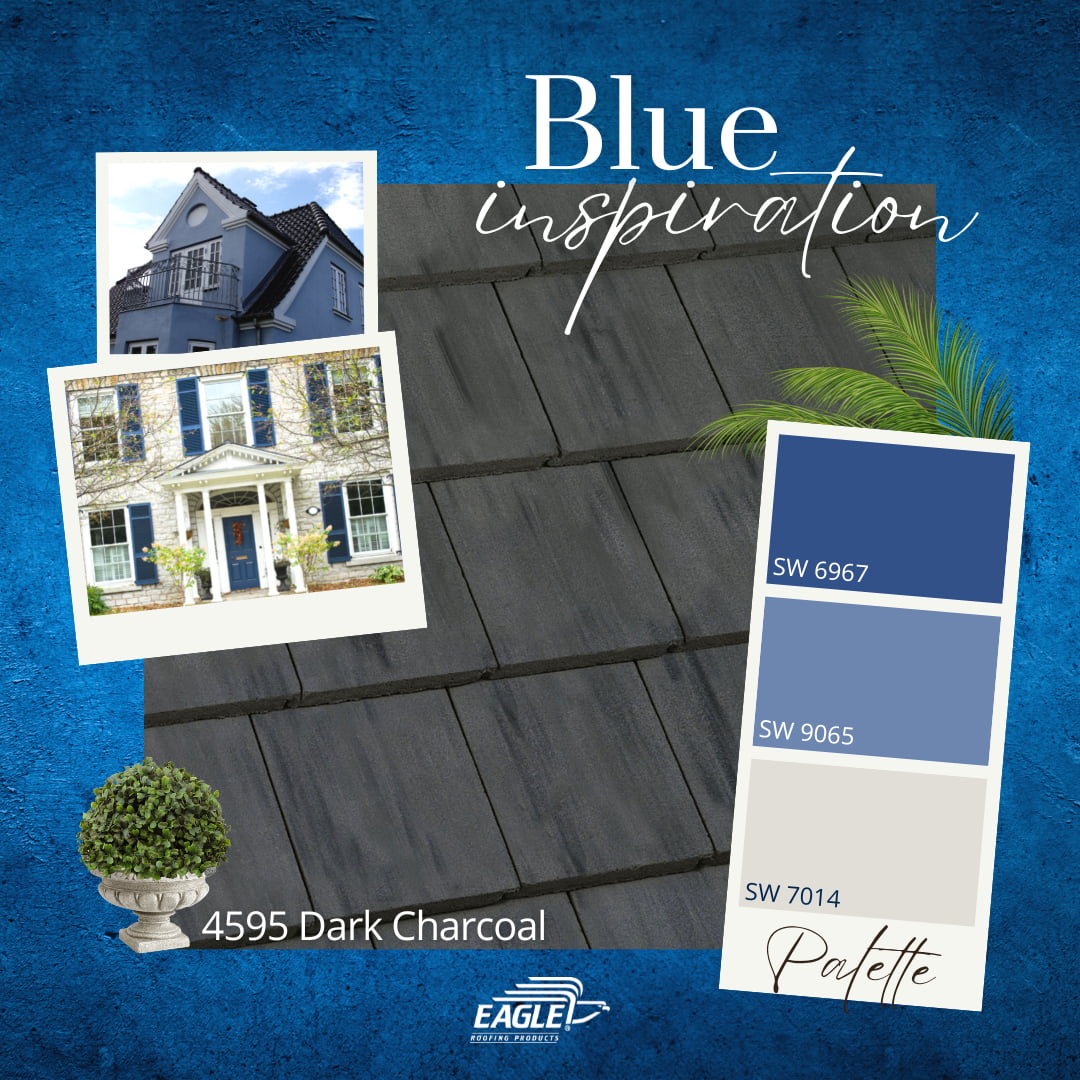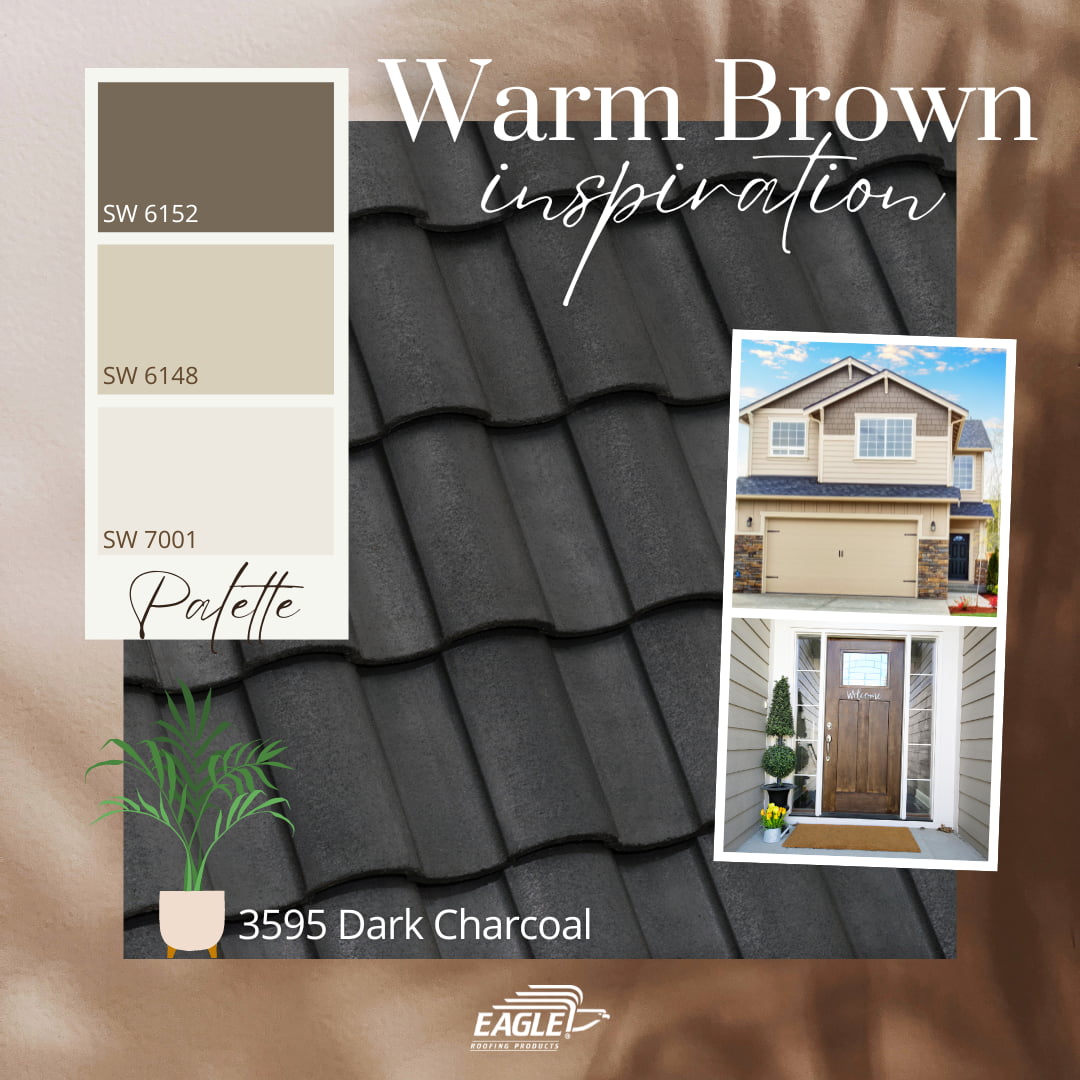 For a more timeless expression of color, try using warmer shades of brown to create contrast and dimension. Sherwin-Williams 7001 Marshmallow is the ideal creamy off-white shade to coat the entire body of your abode. To create a seamless transition to the trim, consider using Sherwin-Williams 6148 Wool Skein. This paint will create differentiation between the base and trim without clashing. Lastly, you can coat the front door, garage door, shutters, or other architectural details with Sherwin-Williams 6152 Superior Bronze to create deepness and bring the hues closer to the rich charcoal adorning the roofscape.
No matter your desired look, Dark Charcoal in any of our gorgeous Eagle concrete roof tile profiles will beautifully complement both classic and contemporary styles for a magnificent exterior. For more information or to request a sample, contact your local Eagle Account Representative!
More Exterior Style Inspiration