May 2023 Color of the Month

Brown Range
May's Color of the Month Brown Range is an exquisite coffee hue perfect for a stylish façade. Add an elegant touch to your home or commercial property with this shade in one of our dazzling profiles*: Ponderosa, Malibu, Bel Air or Capistrano. Whether you're going for a rustic look, contemporary villa or something in between, the decadence of this roof tile will take your curb appeal to new heights.
*Brown Range is not available in all profiles or regions. For a full list of products in your area, please visit the BROWSE TILE section of our website.
Request a FREE Sample
CLICK HERE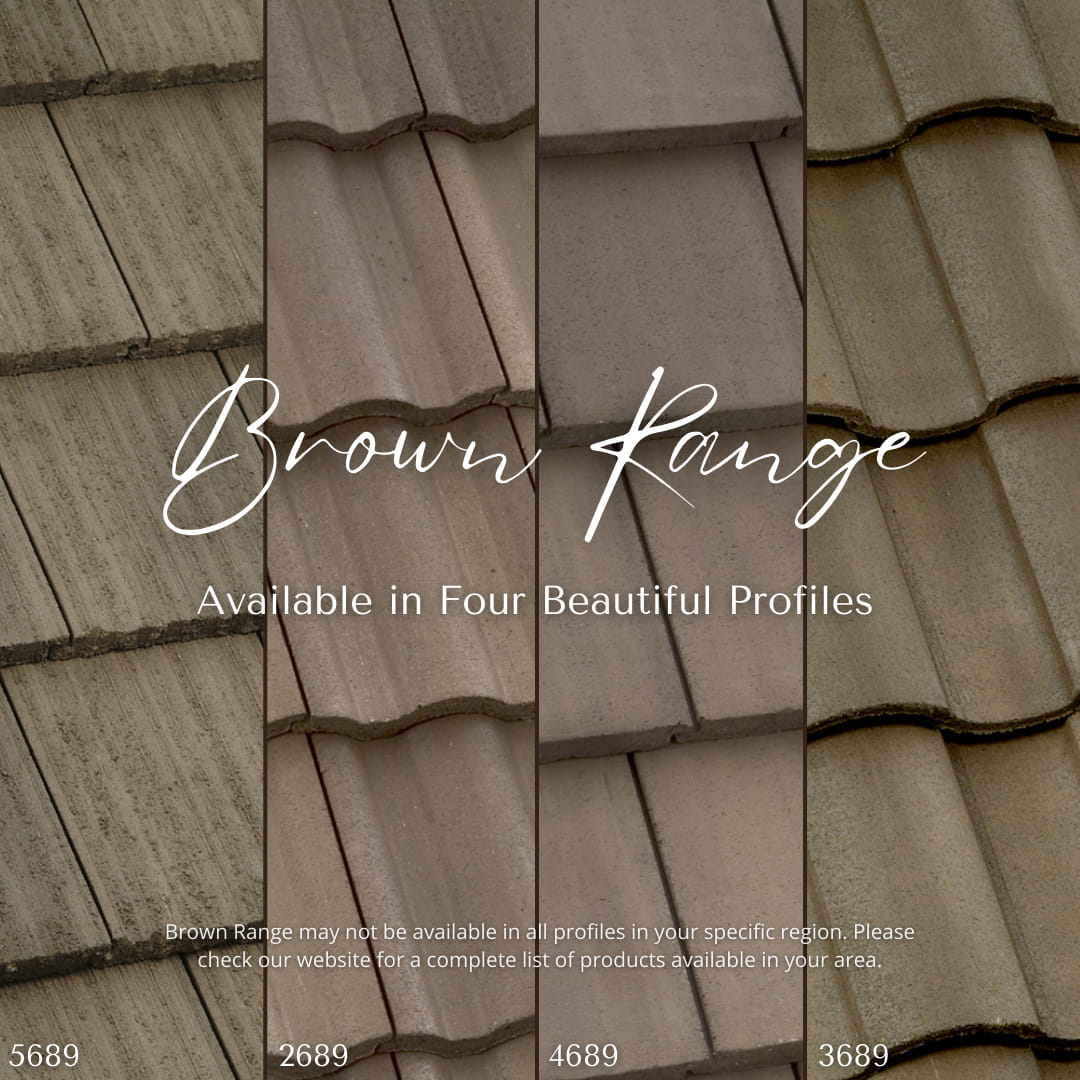 Design Trends and Versatility
Dark and earthy colors like Brown Range are on trend in 2023. This mocha tile is a wonderful choice because of the flexibility it offers when changing exterior palettes. Whether you're a fan of beige, orange, red or even green, you can use your desired paints with this roof for a fashionable look. The roof covering can stand out on its own as a statement on your home or combine with more intricate elements such as shutters, siding or landscaping for a bolder appearance.
Shown here in our raked Ponderosa profile, Brown Range is a stunning companion to stonework for a rustic Northwestern vibe. This style emulates wood shake and is ideal for creating a mountainside oasis. Fire pits, hanging bulb lights, outdoor canopies, and comfortable seating are just a few examples of creative elements that can pull your ambiance together.
This shade also suits a variety of other architectural styles. Try our sleek Bel Air profile on a contemporary abode for a present-day, minimalistic feel. Opt for our high barrel Capistrano profile on a Mediterranean structure to bring neutral warmth to a palette of reds, oranges and creams. For a mixture of these two styles, explore Malibu with its more subtle waves and medium height. Whichever profile you choose, you are bound to have enhanced curb appeal.
Color Exploration
Due to its ability to pair with such a vast array of colors, Brown Range is an easy choice for a classic roofscape. Its natural earth tones are a gorgeous complement to both neutral and colorful exterior schemes. We created two mood boards below so you can visualize just how well this tile pairs with a multitude of tints.
A white cream base with a dark brown roof is an on-trend combination for homeowners. If you're after this look, consider glossing your house with an eggshell like Sherwin-Williams 7562 Roman Column. Trim your structure with a beautiful tan such as Sherwin-Williams 6099 Sand Dollar for added warmth and contrast. To draw out the chocolate tinge of the tile, use a warm brown like Sherwin-Williams 6104 Kaffee on your front door or garage door. This will add depth and dimension to the front view. You can also add a pop of color to liven up your exterior. Purple flower bushes that are similar in chroma to Sherwin-Williams 6832 Impulsive Purple are a sensational selection to line your front entryway or yard. Orange or yellow flowers are also fabulous options to bring brightness to a simple neutral scheme.
Incorporate more color by electing for a rosy monochromatic arrangement. Sherwin Williams 6057 Malted Milk is splendid for a solid, neutral foundation with a pinky hue that will tie in with the rest of the shades. Trim your dwelling with the peachy Sherwin-Williams 6337 Spun Sugar for eye-catching brightness around windows and doors. Sherwin Williams' 2023 Color of the Year, 9081 Redend Point, is a fantastic option for your front door, garage door, driveway or accents. This muted clay dye can even be used on verandas, siding, or outdoor cushions to tie together the rosy brown tones of the scheme. To finalize this chic look, add more red with a deeper clay like Sherwin-Williams 6053 Reddened Earth on your decorative elements such as rugs, plant pots and lighting fixtures.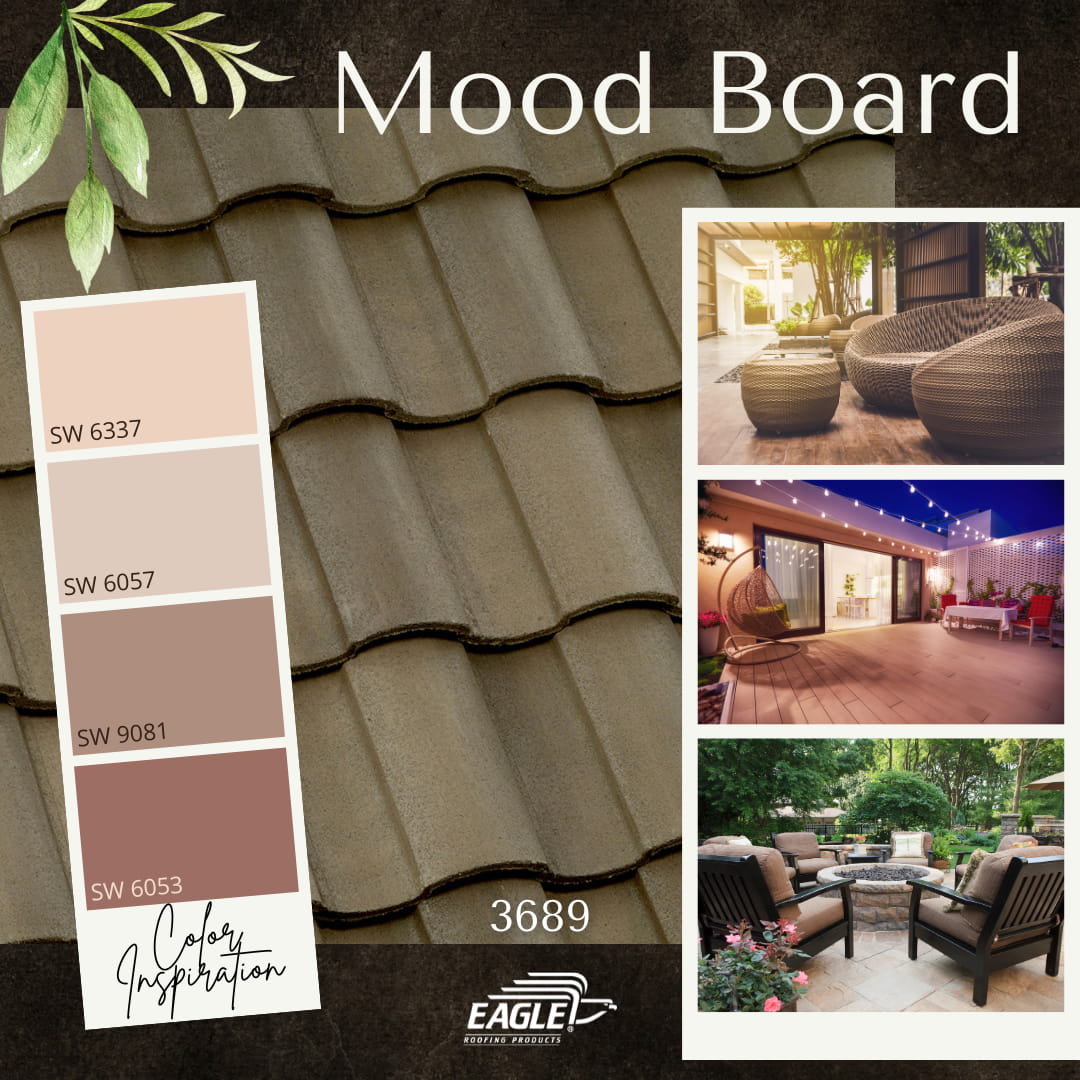 Elevate your residential or commercial property to the next level with an Eagle Brown Range concrete tile roof. This stylish coffee hue will turn your façade into the jewel of the street.
For More Information or to Request a FREE Sample
More Style Inspiration