November 2022 Color of the Month

Piedmont Blend
November kicks off a new installment of Eagle's Color of the Month, and it seemed only fitting to feature Piedmont Blend because of its rich, fall-friendly hues. This balanced combination of vibrant terracotta with a beautiful, muted maroon and woodsy brown will undoubtably enhance and complement your residential or commercial project.
Piedmont Blend is all around versatile and ravishing. Available in our concrete roof tile profiles Capistrano, Malibu, Bel Air, and Ponderosa, you are guaranteed to find the ideal match for your structure.
Design Trends and Versatility
Design trends usually change with the seasons, and it can hinder your decision making as it is hard to predict what the future holds. Piedmont Blend stands unaffected to the constant switch as the stunning blend of pigments on this concrete tile pairs exquisitely with both modern and classic styles. With a subtle but rich color expression as such, prospective homeowners have the ability to lean into timeless whites, yellows, and tans or bolder contemporary accents such as orange, blue, and green.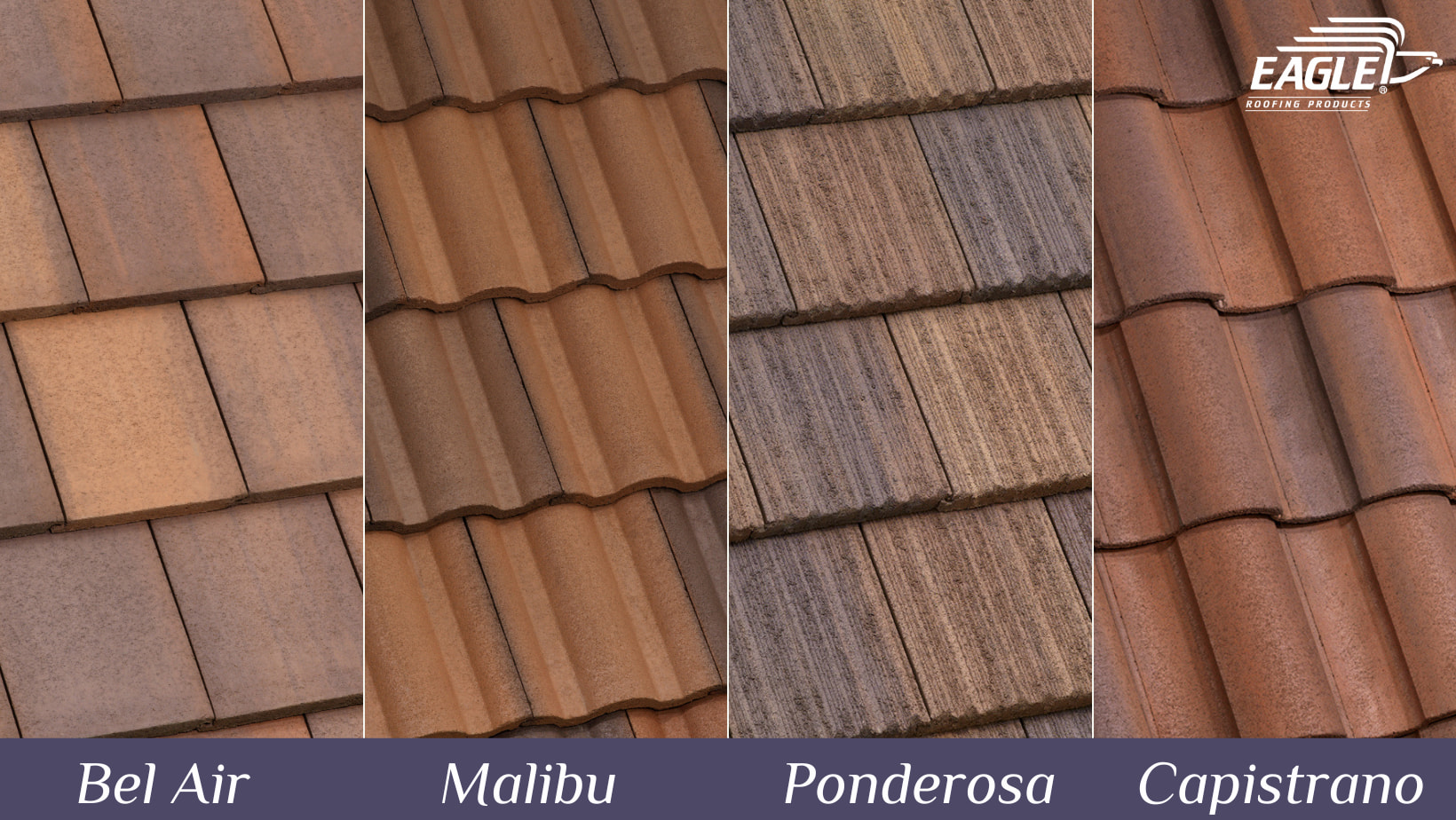 Piedmont Blend in the profile Capistrano radiates grandness, elevating any exterior to its maximum potential in curb appeal. For smaller structures, our Malibu roof tile is ideal as it creates the illusion of a larger surface space. Ponderosa mimics the look of natural wood shake, with its beautiful textured shadow lines, and it is an impeccable companion to Prairie, Craftsman and Bungalow architectural styles. Lastly, our profile Bel Air features a smooth surface which lends itself to endless pairing possibilities from classic colonial homes to contemporary commercial structures and allows you to go heavier on other exterior décor elements.
Color Exploration
The deep, warm autumn shades of Piedmont Blend create a beautiful yet versatile color family that homeowners and designers alike can incorporate when complementing or contrasting the paint scheme, building materials and fundamental design details of their façade.
This home is a perfect representation of a rancho style building, with a low-pitched roof, adobe textured walls, and some ironwork. To recreate this Southwest vibe that draws out the earthy tones of the roof tile consider Sherwin-Williams 6679 Full Moon as its sunny undertone is a great color choice for the body. It seamlessly draws out the brown found in Piedmont Blend while allowing the maroon to pop. As an accent, and to add modernness to a more classic house, Sherwin-Williams 6778 Blue Nile creates the ideal contrast that balances out the warmness.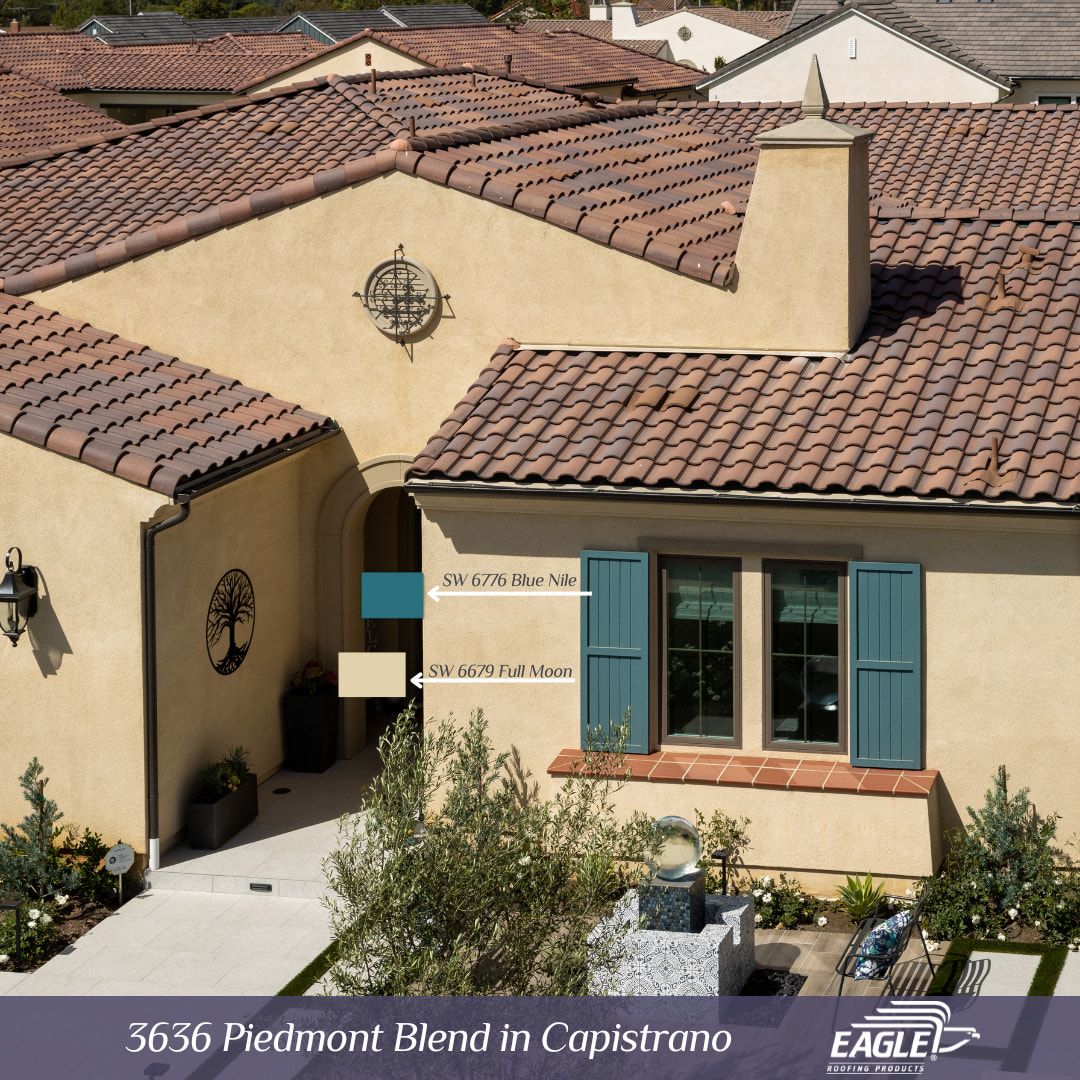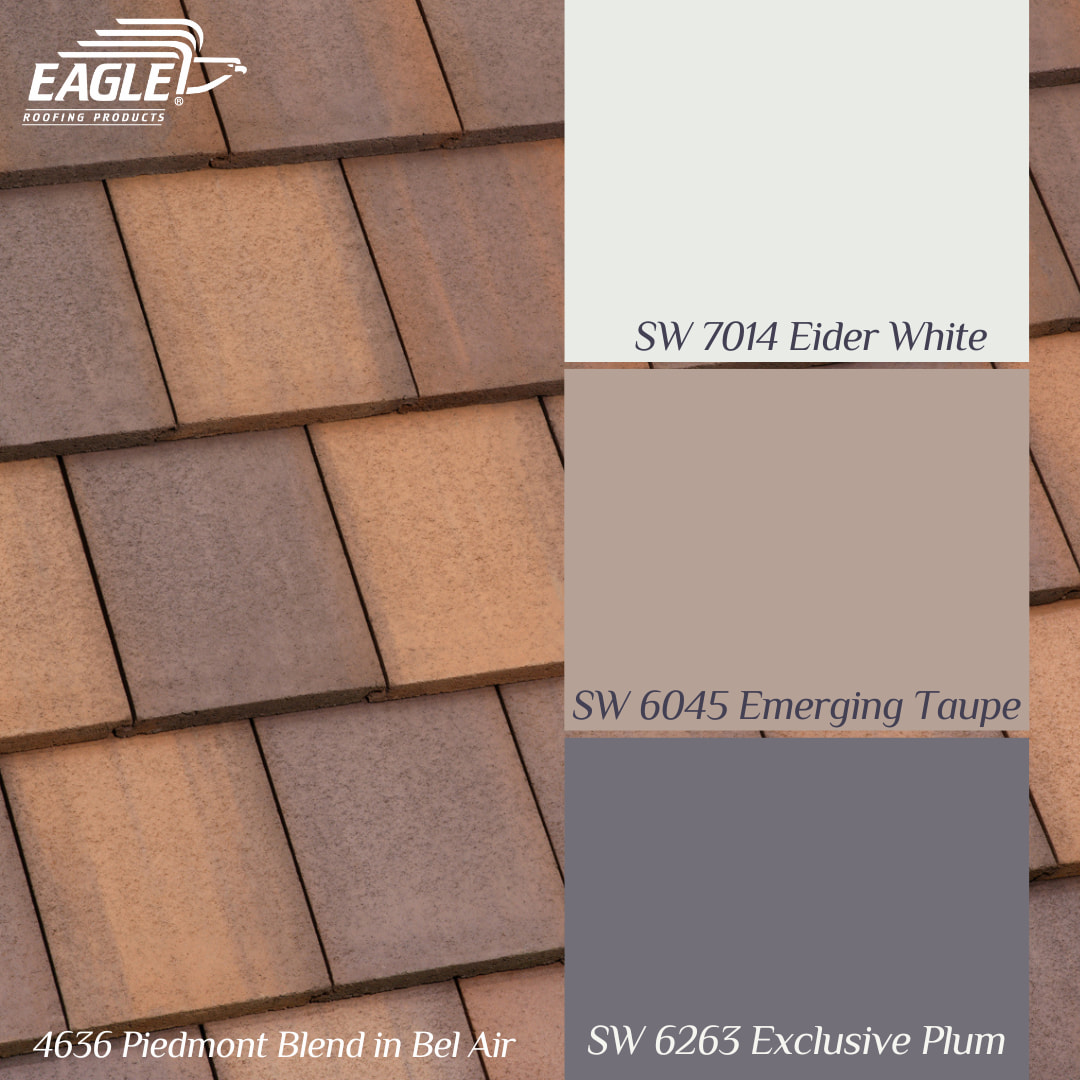 For a more contemporary color palette, using one of Sherwin-Williams top 50 colors of the year, 7014 Eider White, which is an off-white with a hint of gray is the way to go. Earthy neutrals and deep organic shades are all in, so a natural selection for trim and window frames is Sherwin-Williams 6045 Emerging Taupe. Lastly, to add the final touch of modernism, Sherwin-Williams 6263 Exclusive Plum will add depth and dimension if used strategically on decorative elements or even as front door shade.
To request a free sample of Piedmont Blend* in the profile of your choice, fill out our contact form or connect with your local Eagle Account Representative today!
*DISCLAIMER: *Piedmont Blend is only available in the Western Half of the United States and profiles vary by region. Contact your local Eagle Account Representative for any assistance you may need.
More Exterior Style Inspiration