October 2023 Color of the Month

Sanborn Blend
The cool breezes, orange leaves and tranquil sunsets of Autumn are upon us. For this reason, we couldn't help but choose Sanborn Blend* as October's Color of the Month with its rich palette of warm terracottas and light fawn tones. Adorned in black streaking for a classic weathered look, this timeless colorway is the perfect choice for a touch of Old-World charm on any residential or commercial structure. Read on to discover how Sanborn Blend can elevate your curb appeal to new heights with its gorgeous coastal flare.
*Sanborn Blend is not available in all profiles in all regions. For a full list of products in your area, please visit the BROWSE TILE section of our website.
Request a FREE Sample
CLICK HERE
Design Trends and Versatility
Barrel-shaped terracotta roof tiles have been a staple of Mediterranean architecture for hundreds of years. Throughout the United States, builders have often taken inspiration from this style, especially in the Sunbelt region. From apartment buildings to plazas to custom homes, this time-honored, luxurious look is commonly sought after by businessowners and homeowners alike. Rounded tile roofs are a beautiful option if you are looking to add this lavish feel to your exterior façade.
Eagle has a variety of warm red choices in our elegant high barrel Capistrano profile. Sanborn Blend is a stunning option for its resemblance to the opulent umber-toned roofscapes on European coasts. Its subtle charcoal streaking results in a gently weathered appearance, giving it the ever-popular Old-World look and feel, while the tall height of the S-shaped curves of this tile makes for a grandiose roofscape. This impressive crown can be treated as a statement piece on its own or dressed up with a variety of outdoor design elements.
For instance, incorporating intricate landscaping into your driveway's pavers, such as crosshatched lines of grass, is a dazzling way to tie in your exterior with your magnificent Sanborn Blend concrete tile roof. Stonework is an alluring complement to this vault as well, especially if it is beige or tan in color. Opt for additional ornamentation with wrought iron, which is a classic element of the Mediterranean style and can be used in different ways, such as in the form of railings, fences and wall fixtures.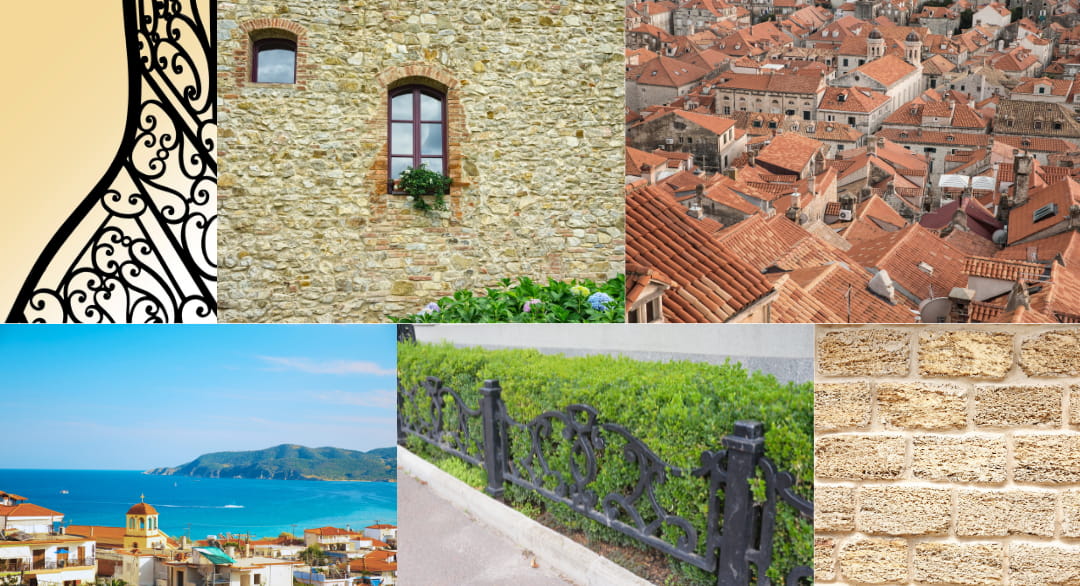 Color Exploration
Sanborn Blend's seamless mixture of terracotta and brownish tans pairs wonderfully with a variety of creams, warm chestnuts and relaxing blues. Whether you're going for a contemporary look with a hint of antique charm or opting for a more traditional Mediterranean presence, this concrete roof tile is the way to go. Get inspired by checking out the color schemes we have put together for you below.
If pleasant neutrals are your forte, this effortless medley of stylish creams and browns will be your cup of tea. Beginning with the body, Sherwin-Williams Eggwhite 6364 is a comely flan paint that will create a solid foundation for your other shades. Add emphasis around your dwelling's borders by coating your trim, gutters and fascia in a slightly deeper hue like Sherwin-Williams Napery 6386. To add contrast to the overall look, take inspiration from a rich cocoa tone such as Sherwin-Williams French Roast 6069 for outdoor furniture items like wicker tables and couches. Lastly, darken wooden elements such as the front door and garage door with an ebony stain like Sherwin-Williams Charwood 3542.
Blue is a graceful complementary shade to muted tangerines and is commonly found as an accent on seaside chateaus and cottages around Europe, especially Greece. Begin this Grecian-inspired scheme with a white tint like Sherwin-Williams White Flour 7102 for a clean, crisp base to build from. Next, create cohesiveness by matching the orange-red hues of the roof tile with Sherwin-Williams Robust Orange 6628 on your gutters and trim. To incorporate those dreamy sky tones, gloss your shutters in a light azure such as Sherwin-Williams Regale Blue 6801. Tie the overall look together by choosing outdoor pillows, rugs, umbrellas, flowerpots and other decorative pieces that are a deep denim shade like Sherwin-Williams Lupine 6810.
Emulate the luxury of a Mediterranean villa with an Eagle roof in Sanborn Blend. Make your abode the talk of the town with the elegant complexion of this concrete tile.
For More Information or to Request a FREE Sample
More Style Inspiration