Save Money With Eagle's Energy Saving Roof
Are you ready to have your roof do more than just beautify the structure it protects? Now you can create a superior roof by incorporating Eagle's Cool Roof products and components, which can be used together or separately to increase the performance, longevity and efficiency of your investment.
Keep your home or building cooler in the summer, while reducing your energy costs, by installing an Eagle Energy Saving Roof. How does it work? As the sun heats the roof tile, the air and deck beneath the tiles warm up. An Eagle Energy Saving Roof significantly reduces the heat transfer from your attic into your home by naturally ventilating the air space between the roof and the deck.
The Installation Process
Eagle's concrete roof tile is highly insulating and is offered in a wide array of reflective colors, which helps prevent much of the sun's heat from penetrating the building below. Install these tiles utilizing several of our Eagle components and you will have a very energy efficient roof.
 
Our installation process:
 
     1. creates an air current that draws cool air in at the eave level,
     2. enables air to flow underneath the tile roof,
     3. drives the hot air up and out of your roof at the ridge.
 
The result? Less work for the air conditioner, less expenditure of energy and lower electrical bills for the end user.
Reduce Heat Transfer. Save Money.
According to an Oak Ridge National Laboratory study, there is:
a 48% reduction in heat transfer into the attic with tile roofs installed using an above sheathing ventilation system (like the Eagle Energy Saving Roof) when compared to a direct nailed asphalt shingle roof.
a 22% savings* per year on heating and cooling costs in a typical single family house compared to an asphalt shingle roof.
This means that an Eagle Energy Saving Roof can reduce heat transfer into the attic by almost 50%, lessening the amount of energy required to cool a home and reducing electricity bills.
*Savings may vary based on location, weather and other factors.
Gain More Efficiency
Together these products create an Eagle Energy Saving Roof that will provide increased efficiency and longevity, resulting in a substantial return on your investment.
Eagle Cool Roof Tile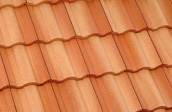 Eagle Roofing Products has a great selection of ENERGY STAR and Cool Roof Rating Council (CRRC) approved Cool Roof Tiles in a variety of colors and profiles. Cool Roof Tiles are made from highly reflective, highly emissive roofing materials that stay 50 to 60 degrees cooler than a normal roof under a hot summer sun. Homeowners can enjoy a considerable cost savings on energy bills, as well as possible additional rebates through local utility companies. Beyond this tangible monetary benefit, Eagle Cool Roof Tile products are also kind to the environment; reducing heat islands, the dissemination of smog producing chemicals, as well as the production of CO2.
To learn more about an Energy Saving Roof, please contact your local Eagle Account Representative.