Protect Your Building For Years To Come With The Strongest, Most Secure Tile Roof Installation Method
Eagle's Dual Fix Hybrid System combines the proven and verifiable security of mechanical fasteners, specifically tile screws with the added uplift resistance and walkability of single component tile adhesive. A superior installation method of attaching the roof tile to the deck, this remarkable hybrid system offers optimal wind uplift resistance and maximum durability for greater protection against the elements.
It's ideal if you live in a region that is susceptible to Santa Ana winds, tropical storms and/or tornadoes, as the high winds associated with these pressure systems have the potential to cause a great deal of damage. The Dual Fix Hybrid System is a powerful solution that provides property owners, roofers and builders with sound peace of mind.
A Dynamic System
Far less expensive than a large paddy dual-component foam application and just as effective, this installation method consists of:
Tile Screws (Mechanical Fasteners)
Tile Bond™ Roof Adhesive
Significant Wind Uplift Resistance
Eagle's Dual Fix Hybrid System stays strong, even in harsh environments where hurricanes, high winds and temperature extremes put roof installations to the test. Our system has been tested, providing uplift protection for wind speeds of 180mph and above on all* Eagle Roofing Products' concrete roof tile profiles, meeting 99% of all Florida roofing installation scenarios which are some of the most stringent in the country.
*On all but a few coastal region "Capistrano" installations (Eagle's high-profile tile).

Product Approval FL 17326 R4 is located on our website.
Mechanical Fasteners and Tile Bond Roof Adhesive are not products of, nor warranted by
Eagle Roofing Products.
For more information on the Dual Fix Hybrid System, contact your local Eagle Account Representative or download the brochure below.
Contact Us
Download
Application Method for Eagle's Dual Fix Hybrid System
The Dual Fix Hybrid System can be used on Eagle's Capistrano, Malibu and Bel Air concrete roof tile profiles. To achieve the desired roof design, tiles must be secured using two #8 X min. 2 1/2 -inch Simpson Strong-Tie Quik Drive WSCD Roofing Tile Screws, placed within the fastener holes, with sufficient length to penetrate through the plywood deck a minimum ½-inch. A minimum 6-inch X 1-inch x 1-inch foam paddy of Tile Bond shall be placed atop any fasteners within the 3-inch head lap of the bottom tiles as shown below. The upper tiles shall be set immediately into the adhesive paddy.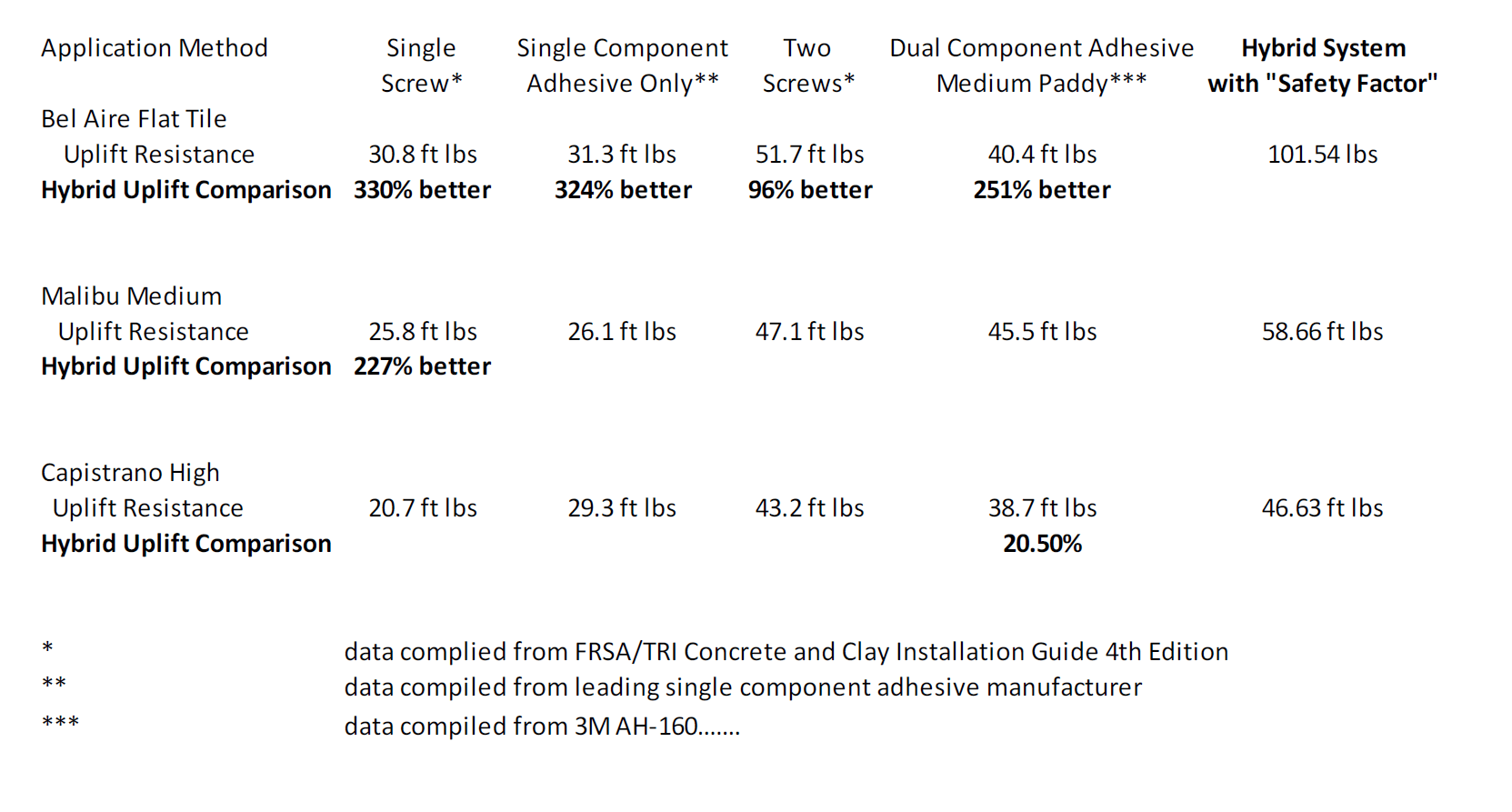 Artistic Renderings of Foam Application for The Dual Fix Hybrid System
Foam can be applied on either the right or left side, and the installation method can be done with or without Eagle's Arched Battens for any of our concrete roof tile profiles.
Below you will find examples of both direct to deck and batten installations.