Superior Performance and Energy Efficiency Without Compromise – Introducing Eagle's Ventilated Roof System.
Eagle's concrete roof tile embodies beauty, elegance, durability and sustainability. Imagine leveraging the advantages a concrete tile roof provides for exceptional, optimal performance in energy efficiency. The Ventilated Roof System does just that.
The Ventilated Roof System was designed to increase the longevity of the roof itself and augment the inherent energy efficiency properties and R-value associated with the roof tile. By incorporating multiple components, which can be used together or independently, airflow and ventilation are facilitated which enhances the overall performance of the tile roof system, reduces energy use and results in a cost savings.
The Ventilated Roof System is comprised of three key elements and components: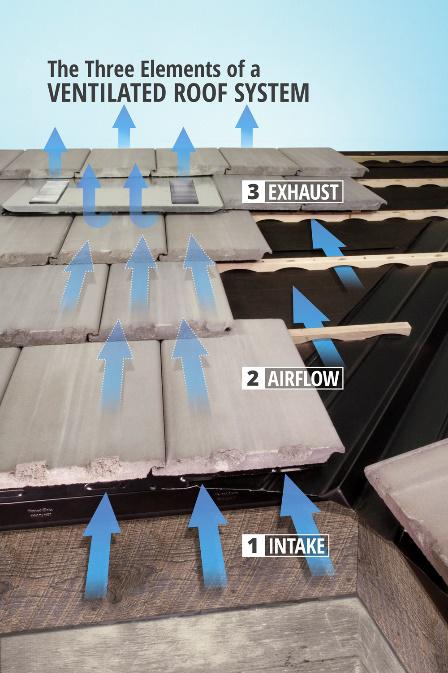 Intake: By installing a Ventilated Eave Closure, rather than a standard eave closure, air is allowed to easily enter the roof system encouraging air intake.
Airflow: Air travels from the eave under the roof tiles. The velocity of the airflow is elevated by using Eagle's Arched Battens. The arches on our graded-lumber battens serve a dual purpose of promoting energy saving airflow, while facilitating drainage, preventing water damage to the underlayment and roof deck.
Exhaust: Proper air exhaust occurs in the upper third of the tile roof system. Exhaust can be accomplished by installing weather blocking ridge ventilation or with profile specific O'Hagin Vents as shown.
---
The added airflow achieved between the tile and roof decking can result in an extended lifespan for the underlayment and components, as well as an energy saving reduction in heat transfer through the attic into the living space. The Ventilated Roof System improves your home's efficiency and comfort by decreasing heat retention, which in turn saves money on electricity bills while mitigating urban heat island effects. In fact, a study performed by Oak Ridge National Laboratory showed a 48 percent reduction in heat transfer into the attic with tile roofs installed using an above sheathing ventilation system, like the Ventilated Roof System, when compared to a direct nailed asphalt shingle roof. The results also showed an average of a 22 percent savings* per year on heating and cooling costs in a typical single-family house compared to an asphalt shingle roof.
In addition to enhanced energy efficiency, the Ventilated Roof System provides insulation in hot climates, prevents ice damming in colder regions, and for areas that experience frequent precipitation, allows tiles to dry out faster to reduce the growth of naturally-occurring pollutants, like bacteria, algae and mold.
*Savings may vary based on location, weather and other factors.
For more information on the Ventilated Roof System, contact your local Eagle Account Representative or download the brochure below.
Contact Us
Download
Ventilated Roof System Installation