Eagle True 2-40 Underlayment
Enhanced Protection from the Elements
Protect your residential or commercial project against moisture and heat damage with Eagle True 2-40. A high quality, premium underlayment, Eagle True 2-40 is manufactured using superior organic felt that is saturated with asphalt and covered on top with mineral surface fines to prevent sticking in the roll.
Performing at a higher overall level than the traditional 30lb base option, Eagle True 2-40 is thicker, stronger and less prone to tearing or splitting during installation or weather events. It also prevents water infiltration by flexing and sealing around the nail for more nail seal-ability.
Create a sealed roof deck that is long-lasting and high quality with Eagle True 2-40.
Eagle True 2-40 is:
USA Made
A true 2 square roll, even with the overlap
Cost-effective and water resistant
Manufactured to comply with ASTM D2626 – 04
Great for concrete tile roof applications
Technical Data:
Width: 39.375 Inches / Coverage 216 sq.ft.
Packaging: 25 Rolls Per Pallet / 24 Pallets Per Truckload
Average Weight/Roll: 78lbs
Mass of Asphalt Saturant: 7.2lbs/100ft sq
Mass of Desaturated Felt: 5.2lbs/100ft sq
Saturation Efficiency (min) by Weight: 70%
Breaking Strength at 77F (min)
Machine Direction: 35lbf/in
Cross Direction: 20lbf/in
Warranty & Manufacturer
Warranty is provided by G.A.P. Roofing Products (not Eagle Roofing Products).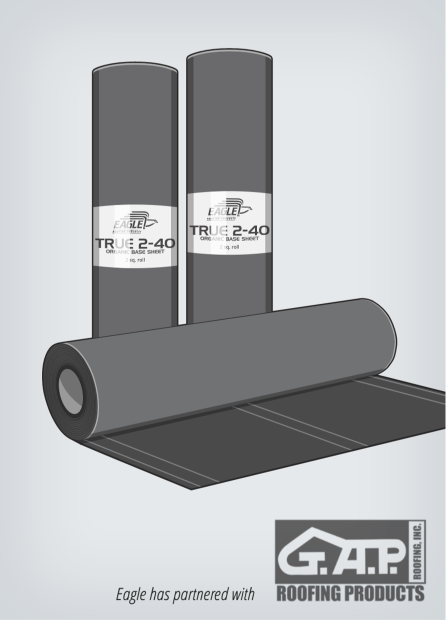 Product is currently only available for the Western Half of the United States.
For information on Eagle True 2-40, contact your local Eagle Account Representative
or download the flyer below.
Contact Us
Download
To Register Your Warranty
Download 15 Single Ply Warranty
Download 30 Double Ply Warranty