Eagle Roofing Products' Commitment to Environmental Responsibility
Since 1989, Eagle Roofing Products has made a concerted effort to reduce its negative impact on the environment. A commitment we hold true today, to environmental responsibility in all aspects of our manufacturing business.
Sustainability Begins with Our Concrete Roof Tile
Whether it be with recycling and re-use initiatives in our manufacturing facilities or the production of energy efficient tile, Eagle is proud to serve as the leader in green concrete roof tile production. Not to mention, all of our tiles are made of 100 percent natural raw materials to make the beautiful barrel and flat profiles that have graced millions of homes.

In addition to gorgeous curb appeal, Eagle's concrete roof tiles have been thoroughly tested to provide superior performance and reliability. Our product is:
Fire Tested – Eagle Roof Tile is a Class A roof covering that will protect your home and personal property.
Hail/Impact Tested* – Concrete roof tile stands up to hail, as well as or better than, any other roofing product. Some insurance companies offer discounted premiums for houses with tile roofs because of its impact resistance.
*Tiles from our Phoenix, Stockton and Sumterville Manufacturing Facilities are impact certified.
High Wind Tested – Installed correctly, Eagle Roof Tile can survive the strongest storms and harshest weather. Eagle tile is tested and approved for use in the Miami Dade high velocity hurricane zone, withstanding sustained winds of up to 180mph.
*Freeze Thaw Protection – Eagle Roof Tile passes Freeze-Thaw requirements.
*Excludes color bonded/slurry tiles.
Recycling and Re-Use Activities Within Eagle's Manufacturing Plants
Pre-consumer recycled content of Eagle's conventional weight concrete roof tile is 2.5 percent, which is comprised of reject tiles that are reintroduced into the manufacturing process.
Pre-consumer recycled content of Eagle's lightweight concrete roof tile, produced in California and Arizona, is 65 percent.
Energy efficient air compressors reduce energy use by 25 percent in our Stockton, CA plant.
Energy efficient fluorescent lights reduce electrical demand by 68 percent in our Stockton, CA and Rialto, CA plants.
Trash that cannot be recycled is compacted to reduce landfill volume.
Molds used to form concrete roof tile are typically made from recycled aluminum and can last upwards of 15 years, at which time are recycled.
A vegetable-based oil recycled from restaurant fryers is used to separate the tile from the molds. All waste oil is collected and reused.
Synthetic oils are used on machinery when possible due to their longer lifespan.
Engine oil and filters from plant equipment are recycled.
Industrial wash-down water is recycled and re-used.
All Eagle tile sealers are water–based.
A low-NOx process is employed in our tile curing chambers.
Unused tiles, waste material that falls from conveyor belts and all wet-mix materials are reintroduced into the product.
Unsellable concrete roof tile that isn't re-ground is considered clean fill and is used as a base for roadways.
On average, a wooden concrete tile pallet weighs over 100 pounds and is designed to be utilized at least 20 times before being recycled. These pallets are repaired and re-used whenever possible.
Health Product Declaration
Eagle Roofing Products stands at the forefront of sustainability in offering our customers product transparency. Our Health Product Declaration (HPD) is available on the HPD Public Repository
Investing in Green Building Programs
Title 24 California Energy Code: Eagle offers an expansive selection of concrete roof tiles that meet Title 24 requirements, providing extraordinarily high reflectance, as well as high emissivity, allowing the tile to emit infrared energy.
Cool Roof Rated: Eagle produces a large selection of Cool Roof Rated concrete roof tiles rated by the Cool Roof Rating Council (CRRC), at no additional cost. Cool Roof Rated products are identified with CRRC logo in all Eagle regional product brochures.
For more information on which products qualify, contact your local Eagle Account Representative.
Eagle Concrete Tile Roofs Can Help Projects Achieve LEED Credits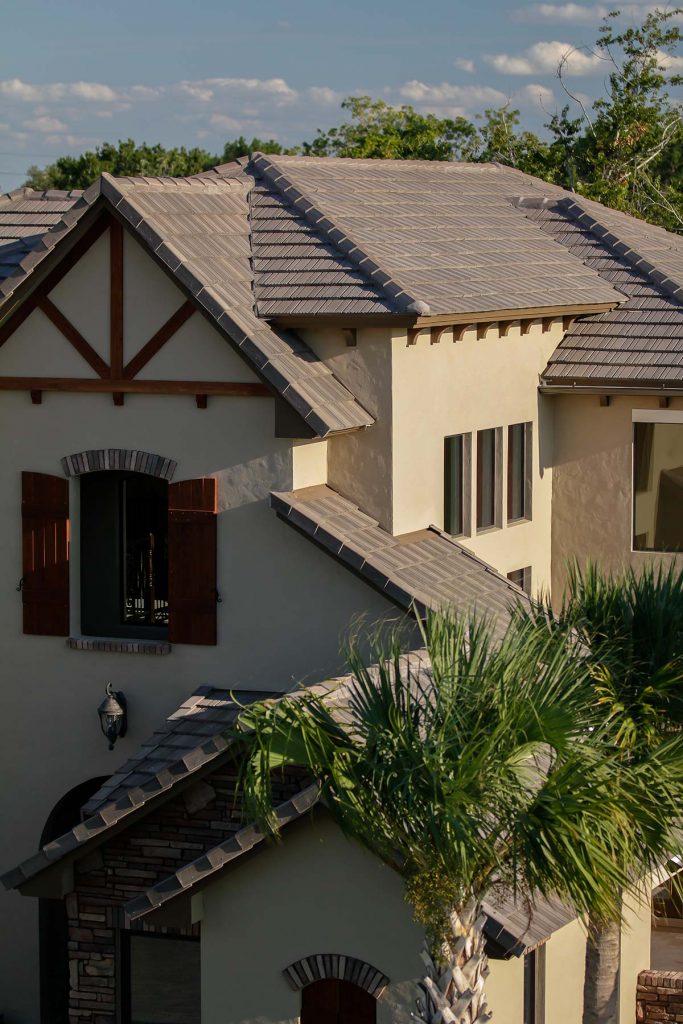 Eagle concrete roof tiles are sustainable products that qualify for various LEED rating points. Our tiles are a natural, proven choice and can play an important role in helping projects achieve LEED certification for green buildings, homes and neighborhoods. Eagle tile is more energy efficient and water efficient than other roofing products, is more durable, requires less maintenance, is recyclable, as well as contains pre-consumer recycled content.
Meeting the U.S. Green Building Counsel's Leadership in Energy and Environmental Design (LEED) Program [www.usgbc.org] in:
SS – Heat Island Reduction LEED v4
EA – Optimize Energy Performance LEED v4
MR – Construction Waste Management LEED v4
MR – Building Product Disclosure and Optimization: Material Ingredients (Health Product Declaration) LEED V4
Increase the R-Value of Your Residential or Commercial Project with Eagle's Ventilated Roof System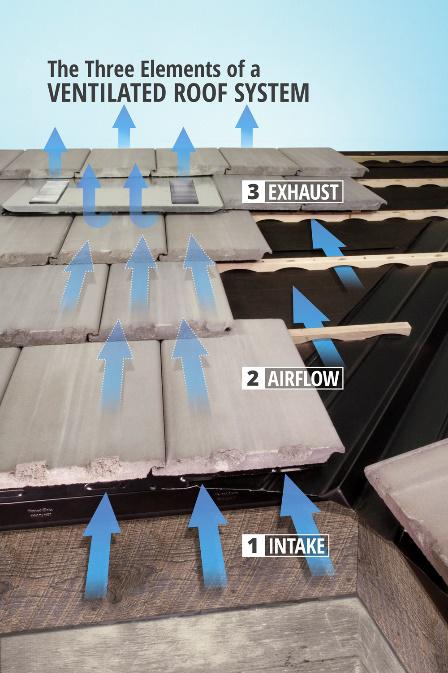 Concrete roof tile has inherent energy efficiency properties, so imagine having the opportunity to further enhance the R-value by investing in an air permeable "breathable" tile roof system that contributes to lower energy costs when compared to shingles, slate and metal. Eagle's Ventilated Roof System creates an air current that draws air in at the roof's eave level and exhausts it at the ridge, facilitating additional airflow, and thus added energy efficiency. It also extends the lifespan of the roof's underlayment and components.
An independent study performed by the US Department of Energy's Oak Ridge National Laboratory showed a 48 percent reduction in heat transfer into the attic with tile roofs installed using ASV (above sheathing ventilation) when compared to a direct-to-deck nailed asphalt shingle roof. The roof system can also provide insulation in hot climates, prevent ice damming in colder regions, and for areas that experience frequent precipitation, the Ventilated Roof System allows tiles to dry out faster to reduce the growth of naturally-occurring pollutants like bacteria, algae and mold.
For more information on our Ventilated Roof System, contact your local Eagle Account Representative for more information.