Eagle concrete tile roofs. The choice is easy.
Eagle's concrete tile roofs are a smart choice for homeowners, architects, builders and roofers. Whether your interest is durability, color selection or energy efficiency, Eagle has the concrete tile roof to fit your needs.
Beauty and Curb Appeal
Eagle concrete tile roofs are beautiful. The available styles and colors will help enhance any architecture resulting in curb appeal that is not available with other roofing materials. Adding the performance and longevity of a concrete tile roof to its aesthetic qualities results in a project that gets noticed. Whether you are a production builder looking for ways to differentiate your development or a homeowner who plans to sell your home in the near future, a concrete tile roof will help increase the home's value.
Durability
Through rain, snow, high wind and hail, a properly installed concrete tile roof can withstand the elements providing years of worry-free performance.
All Eagle roof tile is Class A fire rated.
All Eagle Conventional Weight Color Thru tile passes freeze-thaw requirements.
Malibu and Capistrano tile produced in our Phoenix facility have a Class 3 hail rating while flat tile has a Class 4 hail rating per FM 4473.
Eagle roof tile exceeds current seismic load requirements when properly fastened.
Eagle roof tile can resist damage from hail stones up to 2″ based on testing to FM4473.
Eagle roof tile is protected by a Lifetime Transferable Limited Product Warranty.
Warranty must be registered. Please call 800-400-3245 with warranty questions.
Eagle roof tiles can help to lower energy costs by reducing heat transfer through air circulation under the tile and through concrete's inherent insulating properties.
Affordability
When you consider that a concrete tile roof will last for the life of the structure, the full life-cycle cost of the roof is quite affordable when compared to other roofing materials. With regular maintenance, the hassle and expense of reroofing is minimized. According to a 2007 study from the National Association of Home Builders, concrete tile is one of only three roofing materials that will last a lifetime. The other two are clay tile and copper – both prohibitively expensive when compared to concrete tile.
These charts illustrate the costs of concrete tile versus other roofing materials. You can see that while and asphalt roof may be cheaper initially, the actual cost over 75 years is more than a concrete tile roof.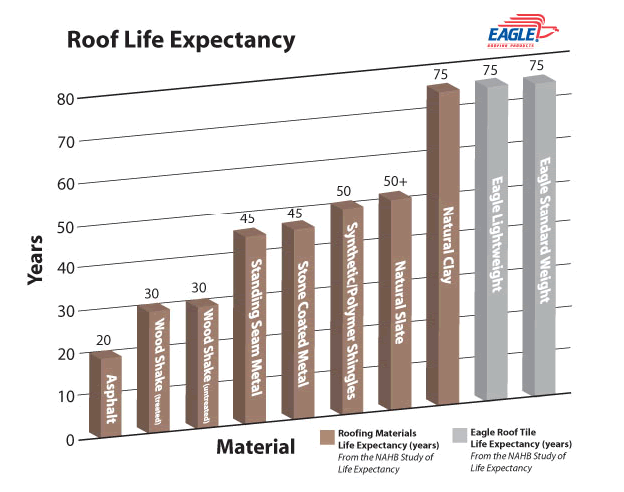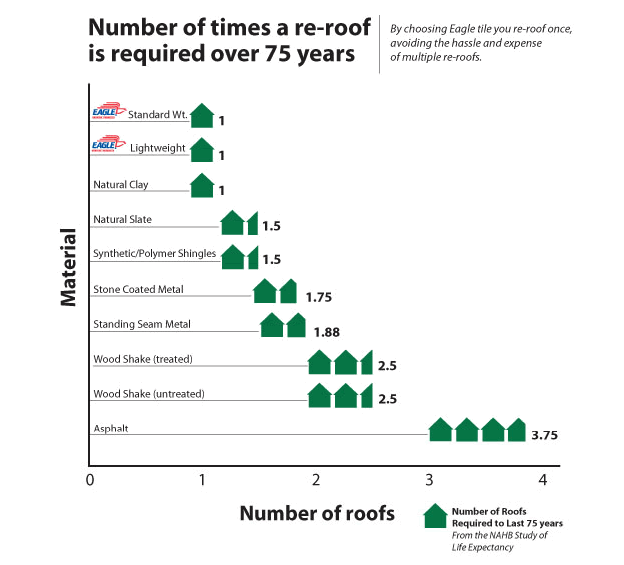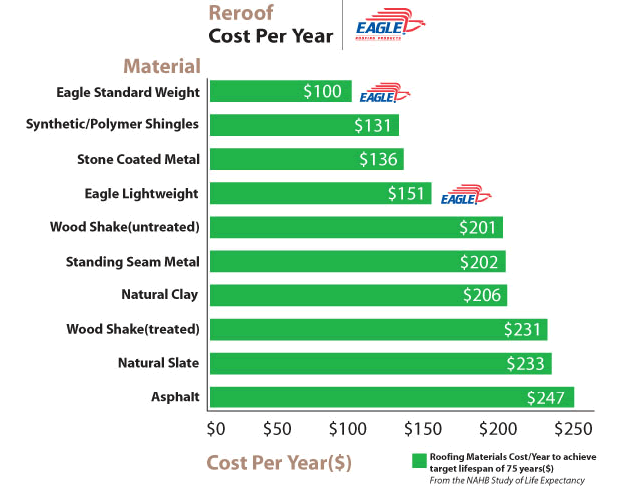 Eagle Green
Eagle has committed significant resources to develop a cohesive green program focused on delivering, energy-efficient products and systems. Our green program reduces waste and pollution as well as preserves much needed resources. The program includes the following:
Eagle Energy Saving Roof – This type of roof system utilizes several of Eagle's components, along with Eagle Cool Roof tile, which is highly reflective.This complete concrete tile roof system naturally ventilates the space between the roof and the deck, reducing heat transfer into the attic by up to 50% when compared to asphalt roofs. The result means less work for the air conditioner, less expenditure of energy and lower electrical bills for the end user.
Eagle Cool Roof Tile – Eagle has a wide selection of Cool Roof Tile colors available for reroof and new construction projects, which are approved by ENERGY STAR and the Cool Roof Rating Council (CRRC) for reflectivity. Certain Eagle colors may be eligible for rebates through homeowner's utility companies and homes built with CRRC rated products may also be compliant with California's 2008 Title 24 requirements. Buildings using reflective roofing can expect a 7%-15% savings on cooling costs, while helping reduce the "heat island effect" on the environment. In addition, Eagle's Cool Roof Tile may also help a project qualify for Leadership in Energy and Environmental Design (LEED®) points ultimately allowing that project to qualify for LEED certification.
Eagle Manufacturing Process – Eagle Roofing Products continues to surpass all other concrete roof tile manufacturers in its recycling and environmentally friendly efforts. A variety of measures have been implemented to purchase energy efficient equipment and significantly reduce haul-off from its plants.
Styles and Colors
Eagle's selection of styles and colors is unmatched by any other concrete roof tile manufacturer. This variety allows homeowners, architects, roofers and builders the ability to find just the right shape and blend for any given architecture. Our products are made to emulate wood shake, clay and slate—but are much more affordable alternatives. Our colors have been designed by professionals with a keen sense of aesthetics and understanding trends in exterior finishes. Whether you're looking for vibrant blends or more naturalistic hues, Eagle has everything you need to meet your concrete roofing needs.