September 2022 Color of the Month

Avondale Blend
Avondale Blend, September's Color of the Month is the epitome of versatility. Hues of Brown, Gray, and Natural Gray with streaks create the ideal balance for any modern or classic exterior home design, as it's trendy but timeless. Currently available in two concrete roof tile profiles, add dimension to your home by selecting 5810 Avondale Blend in Ponderosa, emulating natural wood shake or add modernity with 4810 Avondale Blend in Bel Air* for your upcoming new construction or reroof project.
*Avondale Blend is currently available in our Bel Air and Ponderosa profiles in select regions. 4810 Avondale Blend in Bel Air will be available nationwide by the end of 2022.
Design Trends and Versatility
Avondale Blend is the ideal choice for your residential or commercial space due to its neutral and relaxing appearance. The balance between gray and brown brings about a certain degree of modern style, while gorgeously complementing a wide variety of warm and cool paints, and exterior finishes for great-looking curb appeal.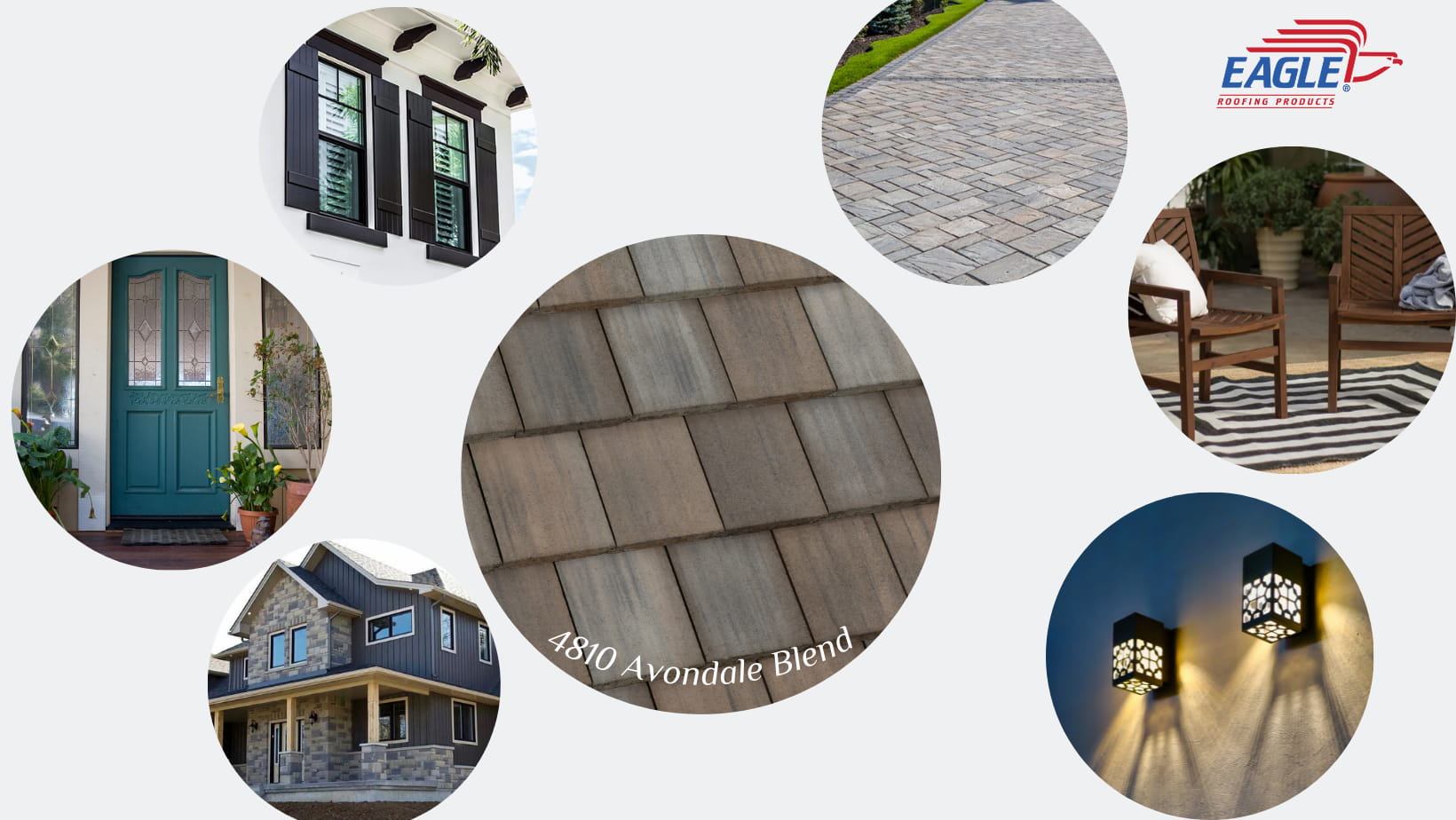 If your structure implements mixed materials such as siding, stonework, brick, and wood, our Bel Air profile is the shape for you. One of our most popular roof tiles, Bel Air oozes elegance with its smooth surface and clean lines. It is the ideal companion to Traditional and Contemporary architecture, and everything in between, as its versatility creates a perfectly balanced backdrop for a wide variety of design styles, and infinite exterior décor and color palettes. As shown in the graphic above, the neutral shades of Avondale Blend paired with the gorgeous silhouette of Bel Air gives you the flexibility to customize the look and feel of your dream home.
Avondale Blend in Ponderosa is an optimal companion to Bungalow, Cape Cod, Colonial, Craftsman, Farmhouse, and Ranch style architecture to name a few. Emulating wood shake, the texture on this roof tile will enhance and complement the beautiful organic aesthetic of your dwelling. Rustic yet stylish, Ponderosa offers the same beautiful look as wood but at a greater value with the superior benefits of concrete roof tile which equates to durability, longevity, energy-efficiency, weather impact resistance, a Class A roof covering and much more.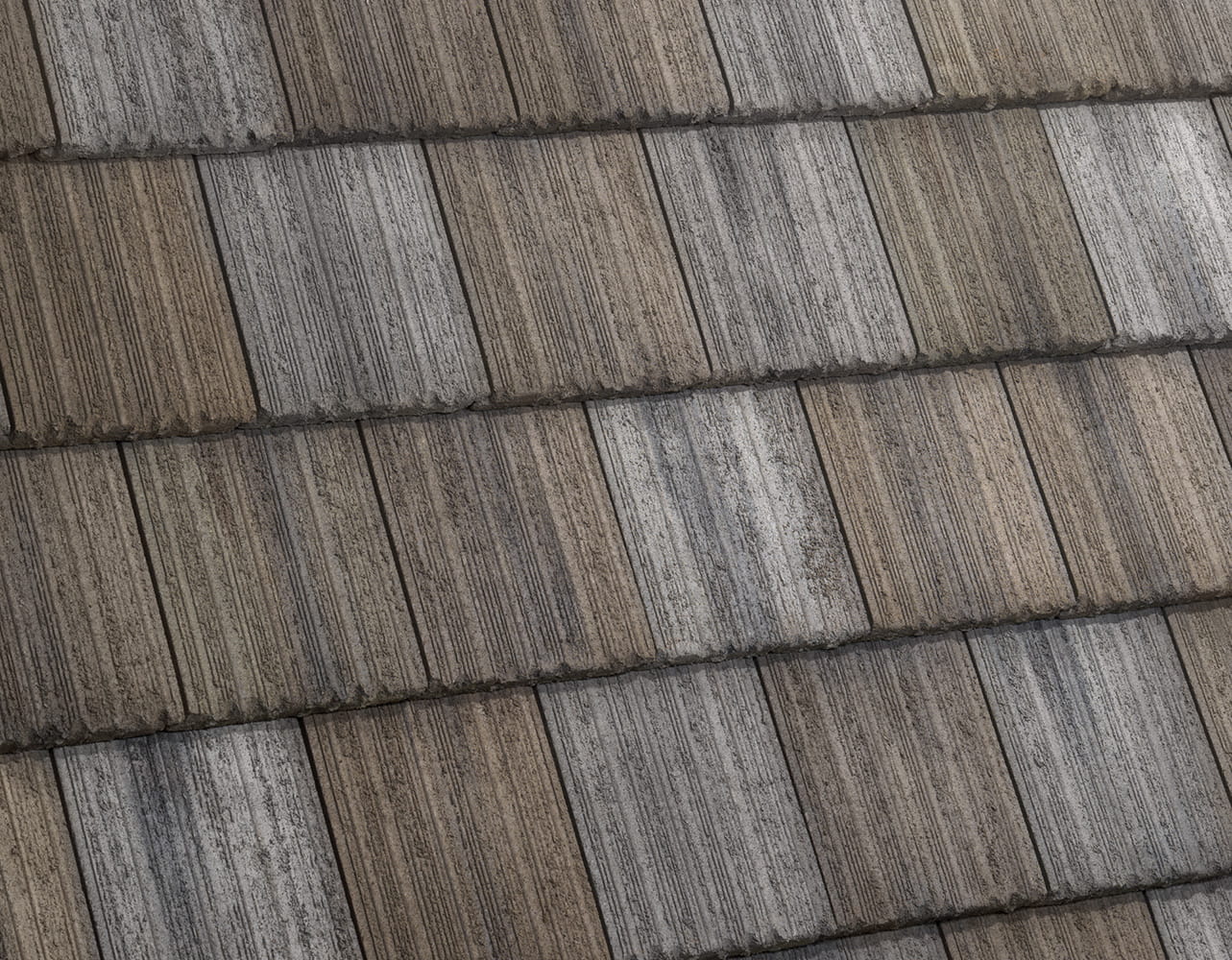 Color Exploration
As mentioned, Avondale Blend complements a wide variety of pigments, but it is important to keep in mind the various exterior design elements of your home before opting for a color scheme. The cool grays remind us of cold winter days while the earthy browns are reminiscent of fine tobacco leaves. Illustrated below are two schemes that highlight the genuine adaptability of this gorgeous blend.
For a bold, adventurous look, Sherwin- Williams 6233 Samovar Silver is ideal for the body of your residential or commercial project. This is a sophisticated gray with cool undertones that match perfectly with Avondale Blend's natural gray hues. Adding warmth and contrast, Sherwin-Williams 0073 Chartreuse is an excellent candidate. This shade of yellow will allow differentiation between your base and trim, while coordinating with the brown in the concrete tile. Lastly, Sherwin-Williams 7577 Blackberry is the perfect touch for depth. Add it to the front door, or incorporate it in your outdoor benches or vases and see this gorgeous color scheme come to life.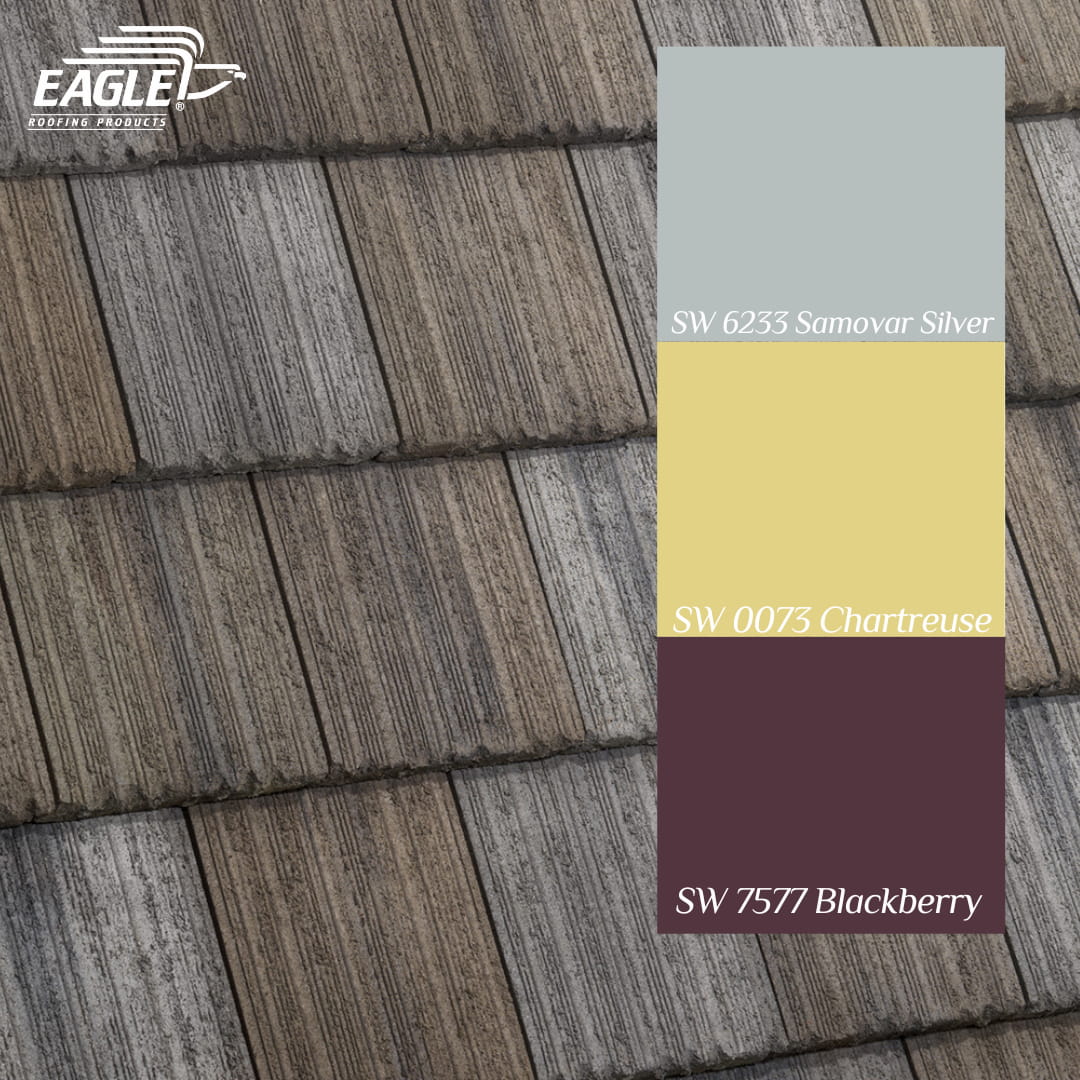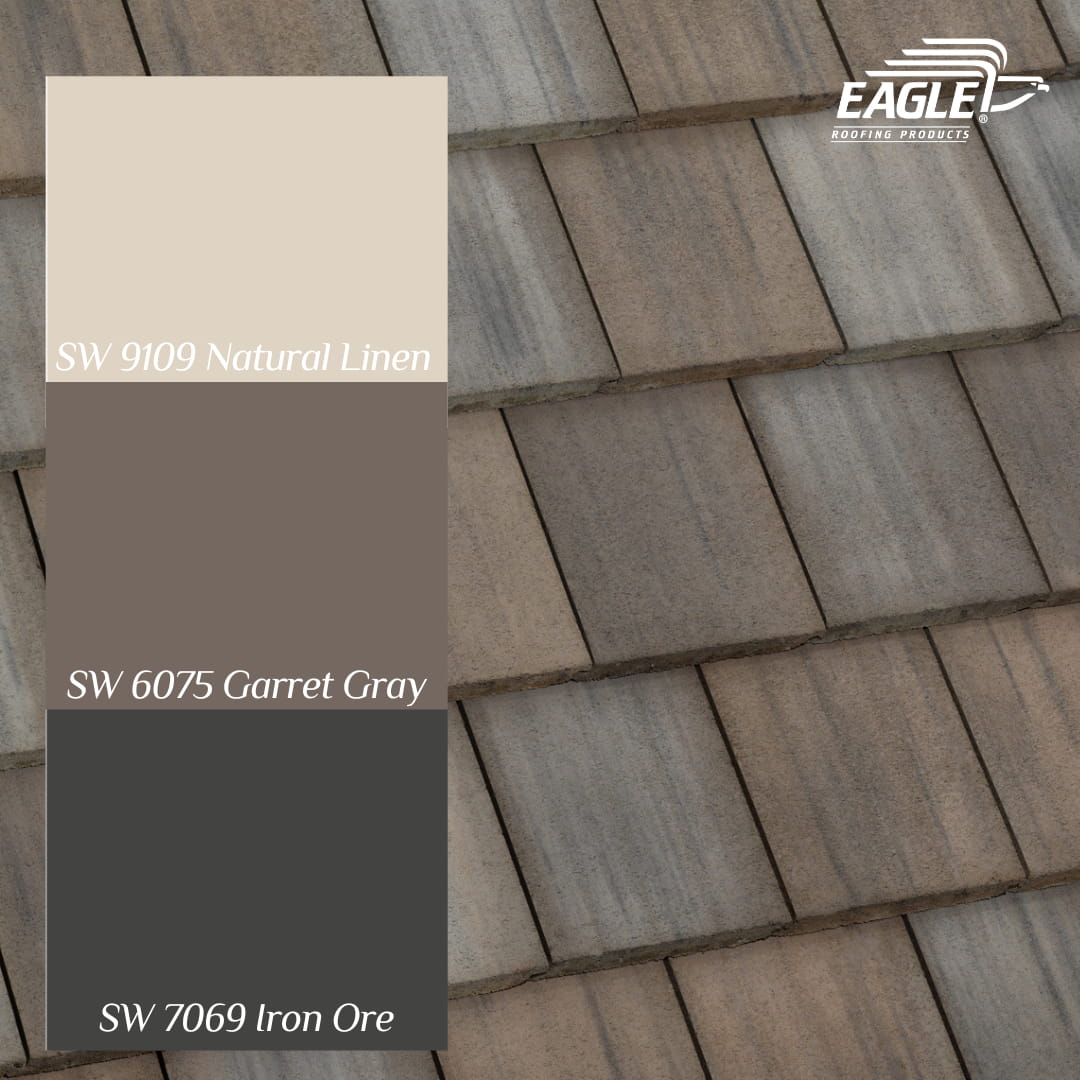 If an elegant, organic exterior is more up your alley, the following palette is for you. Starting with a soft beige base, Sherwin-Williams 9109 Natural Linen has the right amount of coolness to blend seamlessly with the roofscape. Pair it with Sherwin-Williams 6075 Garret Gray to help the structure stand out and accentuate architectural elements. The combination of these two shades will allow the building to contrast against the stunning pigments in Avondale Blend. Sherwin-Williams 7069 Iron Ore will bring the final touch of boldness to gloss over shutters and window frames.
Fill out our contact form to request a free sample of Avondale Blend or contact your local Eagle Account Representative for assistance with color selection, samples, and pricing.
*Avondale Blend is currently available in our Bel Air and Ponderosa profiles in select regions. 4810 Avondale Blend in Bel Air will be available nationwide by the end of 2022.
More Exterior Style Inspiration